Q&A with Singer and Actor Gabriel Coronel
Gabriel Coronel, who started off as a singer, is now both a singer and actor.
Interestingly enough, Venezuela stud Gabriel Coronel began his life as a singer in his teens. He then pursued acting, and is now back to singing.
His debut album, titled Desnudo (Naked), will release on November 5th.
Coronel talked to Living Out Loud about his current projects, career and upcoming agenda, among other things.
Living Out Loud: Where does your drive to be an artist come from and how did you prepare for it?
Gabriel Coronel: That's a very difficult question to answer. My artistic side does not originate from either side of my family. This has always been a vision to me, not a dream. So I decided to follow the path without knowing anything about anyone. These were not gifts of God. I had to study a lot. I graduated as an actor after 5 years. I also studied as a musician at the conservatory. After that, I studied 4 more years at the University of Music At Venezuela. I see the difference between then and now and it's overwhelming. This is the result of many dreams, and nightmares – lots of dedication went into this and we accomplished this goal.
LOL: Did you start as a singer or actor?
GC: Honestly, it began as a singer. I started singing at the festivals at my school when I was about 12 yrs old. After that, I was lucky that my theatre produced Broadway plays. And honestly I knew nothing. Then I realized theatre will work here because it has music, you sing it, and you have an audience for it. From there, I feel in love with acting and music as well; they came hand in hand.
LOL: So tell us about your professional debut.
GC: Professionally speaking, I started out as an actor and from there, I kept doing musical acts. Honestly, you struggle between being an actor or a singer. I started to get big gigs in acting, in plays at the national level. Yet all this time, I dreamt about my album. I constantly thought about music, and I just kept waiting for that opportunity that finally came.

LOL: Speaking of which, what's the concept of your album?
GC: I was wanting it to be more Latino at first, but the record company advised me otherwise. And so I learned how to understand them, and how they understand me. I feel there is a great balance between the Latin and Electronic music. I feel electronic is a genre that is quickly evolving and is enjoyable. At the pop level, it's being used a lot more than the organic or electronic.
LOL: Who produces this and what can we expect to hear from this?
GC: This is an album of just 10 songs. It has 3 ballads, amongst which is 'Desnudo', which is the single to promote. There are 3 more songs, which come with a very accelerated rhythm, and 4 others which are completely danceable. Three of those are electronic and one of them is very Latin. It's very difficult to define the album with a single word; it's a very global album and I was very aware of the song selection. I have worked with great artist such as Rayito, Jose Miguel Velasquez, etc. I just wanted to have an excellent selection of songs as a composer.
These are love songs and amongst this, is a very danceable song in thanks to my fans. It's about a woman who's lost in the darkness. It's wonderful this the type of music can still carry a message in its lyrics, so I'm very happy. It was produced by producers called Acruk; they manage lots of Latino talent.
LOL: Did you participate as composer in any of your songs?
GC: The songs are not completely mine. But I did work with the composers. We have a piece that we started from zero. I wrote most of it, but we worked most of it ourselves. Then there's also the 'Desnudo' song Manuel Velasquez and I composed. This is how I spent my time searching for material – 8 months.
LOL: What message do you give in your song, 'Desnudo'?
GC: The message is not the most important, but it's about a man who is experiencing a period of separation, a divorce. He mentions that he finds himself naked of feelings; he says he's naked because he does not know what to do. It's typical of someone who's going through a separation.
LOL: Where was the video for the single filmed?
GC: We did the video with a Colombian director named Pablo Garcia. He had a beautiful vision and I greatly participated in the creative aspect. We worked starting at 4 a.m. in Miami, and then we used the white piano to film some scenes. Then, we filmed at a beautiful temple and spent the night to film the rest of the scenes.
LOL: What are your plans at the tour and promotion level?
GC: We're in the middle of production of the single, 'Desnudo', that's already on the radio. We're working on the intense fusion of the video, but really the album will be released on November 5th.
LOL: In the soap opera, 'Marido en Alquiler', your song 'Desnudo' is part of accidental music. How important is it for your song to be heard in a soap opera?
GC: Yes, 'Desnudo' is played in the soap opera. It portrays me, in a principal role. It's a wonderful thing to hear your own voice. It's a privilege to be where I am. to sing for a soap opera is a great thing.
LOL: Do you think that besides talent, ones' physique is important to succeed in this career?
GC: Absolutely. Depending on where you want to reach, physique is everything. We each work our physiques to our advantage. He who eats hot dogs can't have the washboard abs. I, myself, was always a fat kid but have worked hard to stay in shape.
LOL: Any television plans?
GC: We just finished filming 'Marido en Alquiler', so now my musical space comes. I hope to take at least a year off to promote it all. I feel by the end of the year I will be in another TV project. For the time being, I want to dedicate my time to music.
Video Slider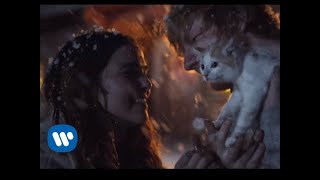 Win Tickets to See Ed Sheeran at the Rose Bowl
Ed Sheeran is back in Los Angeles, and your chance to see him perform is at the Rose Bowl in Pasadena on Saturday, Aug. 18. We are giving away complimentary tickets to the show. For a chance to enter to win, email us at info@lol-la.com with "Ed Sheeran" in the subject line and tell us why you would like to go.