Q&A With One of Flamenco's Most Explosive Dancers: Jesús Carmona
Jesús Carmona stars, choreographs and directs "Impetus". (Beatrix Mexi Molnar)
Celebrated Spanish flamenco dancer Jesús Carmona is coming to Hollywood.
Carmona makes his Ford Theatres debut with the West Coast premiere of his newest piece, Impetus, on Friday, Sept. 8, 2017 at 8:30 p.m. in Hollywood, accompanied by his ensemble of 11 dancers, musicians and vocalists. Carmona stars, choreographs and directs the piece, which can be described as a "powerful dance interpretation of the most famous scores from Spain's beloved composers, including Albeniz, Riqueni and Escudero."
In an exclusive interview with www.lol-la.com, Carmona talks about dancing as a kid, his inspiration, Impetus and much more.
Living Out Loud LA: Discuss your beginnings as a dancer at the age of 7. What do you remember most, and what's the top advice the Jesus of now would give the 7-year-old Jesus?
Jesús Carmona: I remember my origins as day after day dancing with my first teacher Sonia Poveda, whom I owe so much. She taught me to love flamenco. I always remember how I was never satisfied of learning new things. I have been always very nervous, and it was very difficult to keep me quiet. I would say to the 7-year-old Jesus to do just what I did (and keep on doing), that is giving my heart, soul and body in what I do and above all, enjoy what life brings.
LOL-LA: What, or who, more than anything/anyone else inspired your career at such an early age?
JC: My mother, Fina, and my first teacher, Sonia Poveda, were the two that make me the dancer of today. Of course, I also blame my stubbornness and decision to make things happen.
LOL-LA: How did your experience at Ballet Nacional de España shape who you are now, not only as an uber-talented dancer, but also as a business owner?
JC: Ballet Nacional de España was an intense and very happy period of my life. Professionally, it was a very organic step in my career. I joined it after working with other artists such as Antonio Canales, Rojas y Rodriguez or Carmen Cortes. After two years, I became first dancer and performed in some of the most important theaters around the world. Being part of it, I realized how much I loved the choreography and artistic direction. That is why I decided to start my own company. So far, I have presented four shows with it (El Silencio de la Luna, Cuna Negra y Blanca, 7 Balcones and Impetus) and I am working on a new one. I can say that all the steps I took in my career came in a very organic way.
LOL-LA: What's one aspect of Spain's rich music and dance folklore you wish people would treat differently and with much more respect?
JC: If I had to choose one aspect I would see the rich heritage that converges in it. From the lyrics of the songs to the rich variety of music or the intensity of the movements, Spanish folklore and music tells you about the different cultures that lived in the country. But flamenco, more than any other discipline, catches you since the first time you see it. There is something magical in it.
LOL-LA: What is Impetus about?
JC: Impetus, as its name indicates, is an explosion of energy, movement and Spanish character. It is a show created from my own need to evolve, express and create without limits. In this show, you see my greatest truth, my energy, my way of conceiving art.
LOL-LA: Impetus is a piece performed by a company of 11 including five musicians: Daniel Jurado, Oscar Lago, Thomas Potirón, Paco Vega and Juan José Amador. How vital is communication and chemistry to the success of not only the piece, but also of the prolific growth of the company?
JC: This is everything. We are like a family, and we work as a real team. Not only on stage, where you can see how one says nice words to the others all the time, but also in the creation process when communication is crucial. Music and dancing in flamenco go hand in hand. For my show Impetus, the musical selection has been very important to conceive the show since we make a tour of different composers and authors of Spanish music from different eras, such as Isaac Albeniz, Mario Escudero or Rafael Riqueni, among others.
LOL-LA: What can we expect out of your upcoming show here in Hollywood, and what can you tell our readers to entice them to purchase their ticket and come out to see your performance?
JC: Impetus is an emotionally charged show, a piece with a very good energy and positivity. But above all, Impetus is a 75-minute show of first-class dance, music and choreography. After watching Impetus, the audience will be happier, more alive, because Impetus is this LIFE, JOY, ENERGY. A very important part of the show is the music, under the direction of Oscar Lago and Dani Jurado, who have created unique musical compositions that will touch "Asturias" by Isaac Albeniz or pieces from Riqueni or Mario Escudero besides the original pieces that have been created specifically for the show.
LOL-LA: Anything else to add?
JC: Simply to thank you for giving visibility to the art of flamenco and giving me the opportunity for the readers to know me a little more and know my thoughts and feelings and also to thank everyone that makes this possible. Of course, I invite you to come and see me Sept. 8th with my show Impetus, a very flamenco hug for all readers.
Jesús Carmona's Impetus comes to the Ford Theatres on Friday, Sept. 8 at 8:30 p.m. For more information or to purchase tickets, visit fordtheatres.org.
Video Slider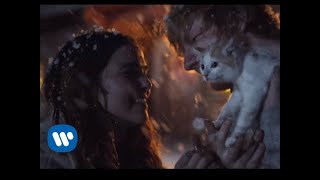 Win Tickets to See Ed Sheeran at the Rose Bowl
Ed Sheeran is back in Los Angeles, and your chance to see him perform is at the Rose Bowl in Pasadena on Saturday, Aug. 18. We are giving away complimentary tickets to the show. For a chance to enter to win, email us at info@lol-la.com with "Ed Sheeran" in the subject line and tell us why you would like to go.