Q&A with Paula Lucero, Founder and CEO of Sudamericana
Paula Lucero (Courtesy Photo)
Like the majority of all great things in SoCal, Sudamericana came about during a hot summer in Los Angeles.
Sudamericana "is a sexy upscale Latin and rhythm dance party that has a residency at the Continental Club in DTLA every three weeks."
Paula Lucero, an acclaimed actress whose credits include the TV series "Last Man Standing" and the TV movie The Retreat, among many others, and her sister wanted more out of their organized shindig outings and functions. As Lucero, the founder and CEO, points out, those Latin places "weren't multicultural enough."
Sudamericana currently sports a steady attendance of about 300-350 people.
In the following Q&A, Lucero talks about Sudamericana, how it came to be, and her vision for it.
Living Out Loud LA: How did Sudamericana come to fruition? What inspired it?
Paula Lucero: Sudamericana was born during a hot L.A. summer. My sister Lorena and I were tired of going to the same Latin places to dance because they didn't quite define us. What I mean by define us is that they weren't multicultural enough. Growing up in Canada, we were always surrounded by diversity. Latin wasn't limited to Central or South America; it was always a perfect balance of all Latin American countries. We grew up listening and dancing to Argentinian, Venezuelan, Colombian, Peruvian, Chilean, Puerto Rican, Cuban and Dominican music among others. We felt L.A. was missing that diversity in a party, and so we decided to put one together that summer. And it worked! It was magic, and everyone loved it! We created what came to be a beautiful community.
LOL-LA: Describe Sudamericana; precisely what is it and how would you sell it to a person who doesn't know what it is?
PL: Sudamericana is a global rhythm dance party. It's an experience of Latin American nightlife. It's world music. It has a vibrant, happy yet underground infectious vibe that will have you dancing and smiling the entire night.
LOL-LA: You have so much going on right now. How do you balance Sudamericana with your other work?
PL: Sudamericana is a collaborative effort, made up of our DJs, our staff, our PR team and the Continental Club's owner, Ashley Joyce, along with their entire team. They [the Continental Club] make it really easy for me to stay focused on my acting career while continuing to grow Sudamericana, which we're all really excited about!
LOL-LA: Can you give us a hint as to who might pop in (in terms of famous faces) this year?
PL: You just never know with Sudamericana. It's such a fun party that artists such as Gente de Zona may just pop in out of nowhere! We're very lucky to have cameos at every event from Yasiel Puig to Victor Ortiz to Yara Martinez ("Jane the Virgin") to Ignacio Serricchio ("Zoe Ever After") to radio and TV hosts!
LOL-LA: What do you hope Sudamericana does for people?
PL: Our hope has always been and forever will be to bring people joy, to bring people from all walks of life together who just want to have fun and forget, even if it's just for a few hours, all the turmoil happening in today's world. Simultaneously, Sudamericana has a philanthropic component. We are more than a dance party. We are about helping others and working with non-profit organizations in our respective communities. We donate a percentage of revenue from each party to different non-profits, both local and national. Our motto is dance and do good!
LOL-LA: Where do you see Sudamericana in the next 3-5 years?
PL: I see Sudamericana being done in other cities similar to what the Do-Over does. Latinos are everywhere, and I believe we can spread Sudamericana's undeniable joy across the nation! It's contagious and much needed right now. In the near future, I would love to start its own non-profit where we can direct our efforts to a particular cause. Protecting and empowering young women has always been a social issue very dear to our hearts. This country has taught me that the sky's the limit, and the possibilities are endless as long as the is heart involved. A day or weekend music festival and a boat cruise are on the list of plans.
Sudamericana: Carnaval takes place on Friday, Feb. 24 at the Continental Club (116 W. 4th St., Los Angeles 90013) at 9 p.m. For more information, visit facebook.com/SudamericanaLA.
Video Slider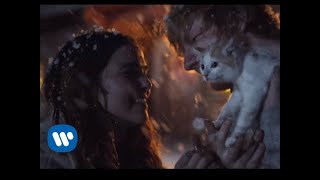 Win Tickets to See Ed Sheeran at the Rose Bowl
Ed Sheeran is back in Los Angeles, and your chance to see him perform is at the Rose Bowl in Pasadena on Saturday, Aug. 18. We are giving away complimentary tickets to the show. For a chance to enter to win, email us at info@lol-la.com with "Ed Sheeran" in the subject line and tell us why you would like to go.