Q&A with Rising Latin Star Kat Dahlia
Kat Dahlia, a rising Latin star with a style uniquely her own. (Rafael Orellana / LOL-LA / June 25, 2013)
"Why make something that's already been created?" That's the mantra of Kat Dahlia, a rising Latin star with a style uniquely her own. The 23-year old Cuban-American rapper/singer caught our attention after releasing an emotional video to her breakout single, "Gangsta," which soared past 2 million views in just a month after it's YouTube release. Dahlia is currently putting the finishing touches on her debut album, "My Garden," which will be out on Vested in Culture (Epic Records) in September. You can catch her live at The Conga Room in Los Angeles on Thursday where she will perform as part of the BET Experience, along with Frankie J.
Living Out Loud caught up with Dahlia to chat about the inspiration behind "Gangsta," what we can expect from her forthcoming album, and how her songwriting has transitioned from writing about fake childhood relationships to real life tumultuous ones.
LOL: Is it true that you began rapping at 8 years old?
KD: I wrote my first song when I was 8 and it was probably not the best song. I don't toot my horn about it; I joke about it because it was probably a terrible song. I think it was a love song. It was about me breaking up with my boyfriend because I think he was cheating on me or something. Mind you, I never had a boyfriend before.
LOL: So it was about an imaginary breakup?
KD: Yes [Laughs]. I always loved poetry and rhyme and I was enchanted by rhythm and story telling.
LOL: Since you've gotten older and had real relationships and breakups, have you found yourself with more legitimate material to write about?
KD: Yeah! Now that I've been through certain things and getting older and finding myself and knowing who I am, I've actually been able to talk about real things as opposed to imaginary boyfriends.
LOL: And at 15 you were pulling samples off of YouTube and writing your own material?
KD: I used to always look up trip hop instrumentals and write to them because obviously at that time, I didn't have a producer. I didn't even know what a producer was. I don't have anybody to make music for me. I don't have a band or anything. I just loved making music and creating songs for myself. There was music that I liked but nothing that was current. I just wanted to create my own.
LOL: Did you always want to be a performer? Was there ever a back up plan?
KD: No not really. I think I always knew in the back of my mind that I wanted to sing and create music. As I got older, I started to fall into the mentality of trying to please my parents so I started going to school but at the same time it was more like a stalling mechanism because I didn't really study anything. I was just doing the general requisites. I took a semester off and was partying in Miami and chilling and working and making money just to get by and help out my family. When I got fired for working on music on the job, I realized I needed to make a change and that's when I did.
LOL: What inspired your current single, "Gangsta?"
KD: I was in a rough place in my life. I had just gotten out of a relationship. I had relied on this person so much for my own happiness. It was such a strange obsession and it was a lot of abuse. I was abusing myself and I was allowing myself to be abused. I never though I'd be that girl and then I got out of that relationship and I laughed to myself. I didn't know who I was. I was in a very doubtful place. I was working to get back on my feet and making music at the time, which was fulfilling but at the same time I was in a place where I didn't know what I was making the music for. I was just making it and there were so many questions that were unanswered. I ended up getting in a fight with my manger at the time and writing that song at the bar of the restaurant I was working at. It was the straw that broke the camel's back and I ended up writing "Gangsta."
LOL: The song has some pretty heavy lyrics. You talk about wanting to buy your dad a house before you win your first Grammy. Is that a goal for you?
KD: That was me being cocky or something but it's definitely a goal to get my family very comfortable so they don't have to worry so much anymore. That was the biggest stress with my family. I think that's everybody's stress on their mind. We worship this thing and at the same time, we desire it so much but we don't realize how hurtful it really is and how destructful it can be when you don't have it and when you do have it. The concept of money is a strange concept to me. Ultimately in this marketplace that we're living in, you need it to survive so if I could get my family to be comfortable where they don't have to worry about money and worry about this constant stress, that's a goal.
LOL: Your debut album is coming out in September. What can fans expect?
KD: "My Garden" is coming out in September. It's going to be really dope and really different. It's going to have a whole lot of different emotions and it's just going to be my music. It's going to be straight up me. We have a lot of dope producers on there: Salaam Remi, Timbaland, Doc McKinney, J. Dens — who did "Gangsta" and is doing a couple of other tracks on the record – and Cinematic who did "Fireman" which is up for free on my SoundCloud. It's going to be some different dope shit… some shit you've probably never heard before.
LOL: Are the songs mellow? Upbeat?
KD: We're definitely going to have some upbeaty but still my type of upbeaty – not necessarily the typical upbeaty thing. It's going to be a mixture of genres. You're going to have some cool upbeat vibes and you're going to have some mellow – whether it's darker or mellow and happier – and really harsh harsh emotional records.
LOL: You released "Gangsta" in both English and Spanish. Do you plan to continue to sing in both languages going forward?
KD: Yeah. I just have to get better at my Spanish. I want to stay connected to my culture and I want to do both.
LOL: How did your Cuban background and growing up in Miami influence your sound?
KD: I think it influenced me unconsciously. I grew up listening to salsa and meringue. It was the foundation of my musical palette I guess you could say. When I got a little older, growing up in The States and an English speaking country, you get into listening to Brittney Spears, 'N Sync, Christina Aguilera, and that whole pop scene. When I got a little older, my brother introduced me to classic rock: Led Zeppelin, Janis Joplin, Jimi Hendrix, The Doors, Sex Pistols. Then as I got even older and was discovering what I liked, I really got into jazz and Miles Davis, B.B. King, Frank Sinatra, Elvis and then obviously Bob Marley, Steel Pulse, and Barrington Levy and things like that. I was always really passionate and still am about music. I grew up in a really strict Cuban household and so I didn't get to go out a lot. My mom was really strict like that. She grew up in Hialeah at a time when it was very dangerous so even walking down the street was a bad idea. She kept that strictness with us and so I was at home a lot, just listening to music and that was what I loved. Writing was my escape. I felt like writing was the one thing that I could do where nobody could tell me what to do.
LOL: What does a typical Kat Dahlia stage outfit look like?
KD: I just put on whatever. A lot of the stuff that I wear is on loan. You wear it once and then you can't wear it again because you get a photographed. I got with a stylist that I really love—Allison. She is really dope and does different shit. She's willing to try different things and so am I so it's like a perfect marriage.
LOL: Who is the dream collaboration?
KD: I'd love to work with B.B. King. I would love to work with Robert Plant and Kendrick Lamar who is a great writer. Eminem is an amazing writer, Ellie Goulding, Emeli Sande, I like writers. I like people that have a message in their music. Damian Marley…
LOL: What inspires your songwriting?
KD: I think it's what is done; whatever happened in my life or whatever is happening is what is inspiring me. I get inspired by certain things. It's all emotions.
LOL: How long have you been working on the tracks on the upcoming album?
KD: I started the album even before I got signed so I have been creating music for a while. The manager that I had at the time pushed me to constantly go into the studio and make music. Nobody knew who I was. I wasn't any type of a star. I was working, I was cocktailing, I was being normal and I was writing about the things I was going through. After I got signed is when we started taking time out and obviously I got a little money in my pocket and I was able to stop waitressing and we were able to get with bigger producers like Timbaland and Salaam Remi. To able to bounce off different ideas and make those mixtures of minds and music and to be able to create something new was amazing. I think the album is going to be really dope and really amazing and I'm just happy. We have a lot of good problems, which is what is going to make the album and what is not going to make the album. I think the hardest thing is going to cut down the album.
LOL: Do you have any artists making vocal appearances on the album?
KD: Not right now. The production is crazy though. The songwriting is crazy. I co wrote with some really good friends of mine like Frankie Storm who wrote "Don't Stop The Music" for Rihanna so it's going to be a crazy record. I don't even know what's going to happen. Hopefully people hear it!
LOL: Anything else we should know about you? Is there a message you'd like to leave fans with?
KD: If you guys want to follow me on Twitter, it's @KatDahlia. My Instagram is @TheRealKatDahlia and I've got more music coming out. A big thanks to all the fans that are supporting me – the people that have been supporting me since day one and the people that literally just probably started following me right this second on Twitter. The fans and the support is everything and the music is everything so I appreciate it a lot.
Video Slider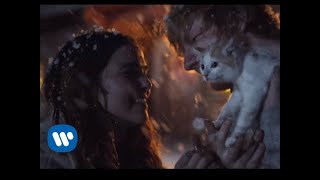 Win Tickets to See Ed Sheeran at the Rose Bowl
Ed Sheeran is back in Los Angeles, and your chance to see him perform is at the Rose Bowl in Pasadena on Saturday, Aug. 18. We are giving away complimentary tickets to the show. For a chance to enter to win, email us at info@lol-la.com with "Ed Sheeran" in the subject line and tell us why you would like to go.