Restorative Yoga for the Busy Person
Being able to find 20 minutes to relax and do nothing is something most people find difficult to do.
You may be wondering what is restorative yoga? Maybe you have never even heard of this.
Restorative yoga's purpose is to restore your well being emotionally, physically, and spiritually.
It may be hard for you to get away to a yoga studio for an hour and a half, but if you do have the time I suggest taking a restorative class.
Basically, restorative yoga involves lying on the ground in supported positions that allow your body to relax. Props are used like bolsters, blocks, blankets, and straps.
The main thing to focus on when you are practicing restoratives is your breathing. It's quite simple to give yourself a mini break at some point in the morning, day, or night. Find somewhere where you will be not interrupted for 15 minutes.
If you have a yoga mat, great. If not, grab a blanket. Lay the blanket on the floor against the wall, sit with one hip against the wall and as you lay back straighten your legs up the wall. Set a timer on your phone for 15 minutes. Turn your ringer off and cover your eyes with an eye pillow or small towel.
You can place a blanket under your head for more comfort. The key is to get as comfortable as possible and to not be interrupted.
In yoga this pose is called Viparita Karani. You can also fold a blanket a couple times or use a bolster to put under your hips. Either position works well for relaxation,
Remember to just breath, let go, and take some well deserved time for yourself.
Video Slider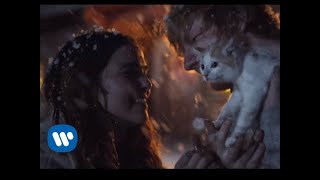 Win Tickets to See Ed Sheeran at the Rose Bowl
Ed Sheeran is back in Los Angeles, and your chance to see him perform is at the Rose Bowl in Pasadena on Saturday, Aug. 18. We are giving away complimentary tickets to the show. For a chance to enter to win, email us at info@lol-la.com with "Ed Sheeran" in the subject line and tell us why you would like to go.