Review: "A or B?" at the Falcon Theatre Lives Up to Expectations
Jules Willcox and Jason Dechert in
"A or B?" at the Falcon Theatre. (Jill Mamey)
Many of us have revisited a lost relationship and wondered, 'if that little thing hadn't happened, everything would be different.'
The romantic comedy play, 'A or B?,' written by Ken Levine, explores those 'what ifs' in life and love. How much does romance depend on circumstances? Is there such thing as fate? The story takes the audience on two parallel journeys, each exploring a different outcome of one event.
When Ben Steele (Jason Dechert) interviews Abby Morgan (Jules Willcox) for a prestigious marketing job, their chemistry is clear from the first hello. The two are then quickly faced with a decision as to whether they should pursue a professional relationship or a personal one. If they are lucky, maybe they can even have both.
Each 'reality' is not without its pitfalls, and the script does not shy away from a clear answer to the dilemma. Creative costumes and lighting signal the switch in realities, which become less distinct as tension heightens.
The witty dialogue is the play's best feature. It holds the audience's attention and doesn't lag in any places. The time passed quickly, and I never found myself drifting off. Dechert and Willcox are the only two actors, so it is a huge accomplishment that their interactions can carry the whole play. The script is rich with cultural references, including one spot-on comparison to Mad Men.
Dechert and Willcox are adept at playing the couple that bickers and enjoys doing it. However, many times I found Willcox's character grating. A few of her lines came across as self-congratulatory about her own sex appeal, as if she enjoyed the idea of having Ben Steele under her thumb. After insisting so much on having equality to Steele at work, Abby contradicts her own ideals by using sex to gain leverage over him during a key business negotiation with a television station. I couldn't tell if her character was supposed to be a little unlikable, but I found myself enjoying it when she got some comeuppance (at the same business dinner, as it happens, just in a different reality).
Jason Dechert was better at the love-hate banter (sometimes Willcox seemed too angry at him and didn't quite hit the same seductive vibe) but some of his romantic lines veered on the corny side. One sequence that involved him stripping in public was particularly-cringe worthy. He does deliver, though, in a monologue about a bathtub, and what he can do with his hands in Willcox's hair. And the chemistry between the actors in terms of body language was always believable and sometimes even electric.
Even though this play is a romantic comedy, it explores deeper territory. Not only does it ask the audience if they believe in fate, but invites us to question how much we should allow it to influence our lives. How much do cultural expectations factor into our priorities? And is there ever a right time to make a leap of faith?
Video Slider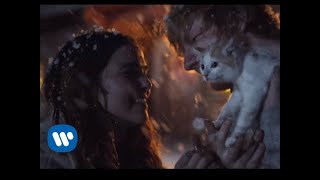 Win Tickets to See Ed Sheeran at the Rose Bowl
Ed Sheeran is back in Los Angeles, and your chance to see him perform is at the Rose Bowl in Pasadena on Saturday, Aug. 18. We are giving away complimentary tickets to the show. For a chance to enter to win, email us at info@lol-la.com with "Ed Sheeran" in the subject line and tell us why you would like to go.