Review: The Acceptable Yet Flawed Justice League
Ezra Miller, Ben Affleck and Gal Gadot in Justice League (Warner Bros./DC Comics)
There are few blockbusters not directed by Michael Bay more detested than the recent DC Comics adaptations, with the notable exception of this summer's Wonder Woman. So it makes sense to approach Justice League with a heavy dose of apprehension, particularly since much of it was directed by Zack Snyder, the man behind Ben Affleck's first turn as Bruce Wayne, before Snyder ceded control of the film to Joss Whedon after he experienced a personal tragedy. Justice League is, depending on one's point of view, either a step forward or a step back for the franchise. The film may not be the unqualified success that Wonder Woman was, but it's a lighter, nimbler and far more likable film than Batman vs. Superman, even considering the film's flaws.
Justice League takes place after the death of Superman at the close of Batman vs. Superman plunged the world into chaos. Bruce Wayne/Batman (Affleck) realizes that evil forces are gathering to exploit the world's weakness without Superman, so he tries to assemble a team of superheroes that include Wonder Woman (Gal Gadot), the Flash (Ezra Miller of Fantastic Beasts and Where to Find Them), Aquaman (Jason Momoa, Khal Drogo from "Game of Thrones") and Cyborg (Ray Fisher).
They must face the supervillain Steppenwolf (Ciarán Hinds, also a Westeros alumnus) before realizing that they cannot face him without Superman (Henry Cavill), whom they concoct a plan to resurrect so that the team can defeat Steppenwolf before he destroys the earth. Batman and Superman nearly fought to the death in the last movie before putting aside their differences (and the Martha moment that precipitated it is still one of the most boneheaded bits of screenwriting imaginable), so Justice League requires that the various heroes put aside their differences and work together as a team.
And thus Justice League becomes The Avengers, with a different set of superheroes, and it makes perfect sense that Whedon, who directed that film and its sequel, would handle the material deftly. Still, he is working within the framework that Snyder create, and could not overhaul the nearly-completed film to such an extent to take full advantage of his gifts.
Most of the personal squabbles between the superheroes fall flat since there is little reason for these characters whom the film barely introduces to conflict with one another, and the action sequences (which were never quite Whedon's strength in the Marvel Universe, either) have the washed-out, ugly look and over-reliance on slow motion that mark the DC Comics movies. Aquaman and Cyborg just aren't dynamic enough personalities for the character bits, despite the efforts of both Momoa and Fisher.
Justice League tries to be The Avengers, but where it really does succeed is when the film recalls the work that made Whedon famous, "Buffy the Vampire Slayer." If there's anything that Whedon knows, it's girl-power fantasy and wise-cracking youngsters, so it is no surprise that both Wonder Woman and the Flash get the best material. Gadot was the best part of Batman vs. Superman and her solo effort fulfilled that promise, so the film feels most assured when Diana Prince is at its center.
The previous DC Comics films have been rightfully criticized for their dour, humorless tone, so having the Flash bring a lightness to the story helps immeasurably. Miller is one of the best actors of his generation (We Need to Talk About Kevin, The Perks of Being a Wallflower and The Stanford Prison Experiment are all excellent yet vastly different performances.), so seeing him reduced to a supporting role in two franchises feels disheartening, but it is tough to imagine Justice League without what he brings to it. Compared to most of his cast mates, Miller seems overjoyed to be there, and he can sell a moderately clever quip as far funnier than it should be. It's a stark contrast to Affleck, who seems disheartened to be there and ready to check out.
All of this makes Justice League into an acceptable if flawed film that makes incremental steps to improve the franchise. It feels unfair to pile all the blame on the much-maligned Zack Snyder considering the circumstances under which he departed the film, but it took Joss Whedon to point the DC Comics franchise in the right direction. May the next one continue the trend.
———————————————————-
Justice League
Warner Bros.
Now in theaters
3 Stars
Films are rated on a scale of 5 stars (must-see), 4 stars (exceptional), 3 stars (solid), 2 stars (average) and 1 star (unworthy).
Video Slider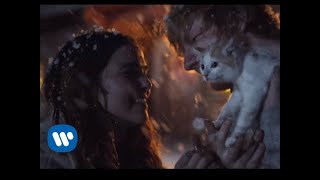 Win Tickets to See Ed Sheeran at the Rose Bowl
Ed Sheeran is back in Los Angeles, and your chance to see him perform is at the Rose Bowl in Pasadena on Saturday, Aug. 18. We are giving away complimentary tickets to the show. For a chance to enter to win, email us at info@lol-la.com with "Ed Sheeran" in the subject line and tell us why you would like to go.