Review: Alvin Ailey American Dance Theater Graces the Music Center Stage
Alvin Ailey American Dance Theater in r-Evolution, Dream (Paul Kolnik)
Glorya Kaufman Presents Dance at the Music Center series in downtown Los Angeles has become the epicenter of art and culture, embracing all varieties of dance and performance. Alvin Ailey American Dance Theater has once again returned to its second home here in Los Angeles for a short time, March 8 through March 12.
One of the many things that continues to make Ailey so exciting and unique is that they aren't just one thing or one form of dance. They infuse all styles of dance from modern, contemporary, ballet, African and even hip-hop into their choreography. Robert Battle, a longtime choreographer for Ailey, became the artistic director in 2011 after being personally appointed by his predecessor, Judith Jamison. He is only the third person to have this title and responsibilities after Jamison and Alvin Ailey, himself.
The Alvin Ailey American Dance Theater will rotate three programs during their five-day residence here, all will include fan favorite Revelations. Ailey will also be debuting three West Coast premieres entitled r-Evolution, Dream, Untitled America and Deep.
Opening night showcased program A, which began with r-Evolution, Dream. This piece, choreographed by longtime member Hope Boykin, brought a fresh new perspective to the Ailey repertoire with vivid color, vibrant narration and aspirational music. She was inspired by the speeches of Dr. Martin Luther King Jr. during a time in this country where change needed to happen and the people were fighting to make that imminent. Boykin tapped into the struggles of the African-American community then and now.
Dance genius, Kyle Abraham, created Untitled America, which focused on the prison systems in America, and how it causes disruption in African-American families. Powerful songs and interviews overlaid their emotional dancing. Moving and poignant, this piece received a standing ovation once over.
After a brief second intermission, Battle choreographed a lovely little number entitled Ella before Revelations. Two animated woman danced their hearts out with so much expression and character that the audience couldn't help but feel uplifted and emote with chuckles of laughter. They brought Ella Fitzgerald's music to life in a fresh and new way. They danced to every scat and word!
Of course. Ailey's famous and popular Revelations closed the show. The crowd began to cheer when the first beats of the song began to play. When the curtain lifted and the light casted down on those famous arms and hands, everyone was immediately drawn in.
The dancers were seamless as they glided across the stage. They managed to make the most difficult movements appear as if no effort was given. They extended every muscle from their fingertips to their toes so that people in the top balcony could feel the emotion emanating from them. They allowed themselves to be emotionally open and vulnerable in their dance so that the audience could go on this journey with them.
If ever given an opportunity to see the Alvin Ailey American Dance Theater perform, it shouldn't be missed. Since they are only in Los Angeles for such a short time, this is a very hot ticket! With fresh new pieces added to this years show, Ailey is a must-see.
Alvin Ailey American Dance Theater performs at the Dorothy Chandler Pavilion March 9, 10 and 11 at 7:30 p.m. and March 11 and 12 at 2 p.m. For tickets and more information, visit musiccenter.org/about/Our-Programs/Glorya-Kaufman-Dance/1617-Season/Alvin-Ailey-American-Dance-Theater.
Video Slider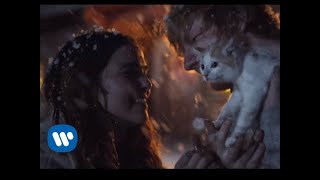 Win Tickets to See Ed Sheeran at the Rose Bowl
Ed Sheeran is back in Los Angeles, and your chance to see him perform is at the Rose Bowl in Pasadena on Saturday, Aug. 18. We are giving away complimentary tickets to the show. For a chance to enter to win, email us at info@lol-la.com with "Ed Sheeran" in the subject line and tell us why you would like to go.