Review: Andy Serkis' Directorial Debut, the Sensible Breathe
Andrew Garfield and Claire Foy star in Breathe. (David Bloomer/Bleecker Street/Participant Media)
Thanks to his roles in three separate trilogies – The Lord of the Rings, The Hobbit and Planet of the Apes – Andy Serkis is well-known to audiences yet simultaneously unrecognizable, considering his most famous work is performing the motion-capture roles of the Tolkien villain Gollum and the ape conqueror Caesar. There is a certain irony when that the undisputed legend of motion-capture acting decided to go behind the camera, he chose a film about a protagonist who cannot move at all. Breathe, which serves as Serkis' directorial debut, considers how a man may live for decades without the ability to move anything other than his head.

In Breathe, Andrew Garfield, having been freed from the confines of playing Peter Parker and firmly settled back into more respectable filmmaking, plays  Robin Cavendish, an English trader who fell ill from polio during a trip to Africa and lost all use of his lower body. Confined to a hospital where he was kept alive through the use of a ventilator, Cavendish demands that his wife Diana (Claire Foy, best known for playing the young Queen Elizabeth in "The Crown") return him to their country home to live out the rest of what he believes will be his short life. With the help of their friend, the inventor Teddy Hall (Hugh Bonneville), Robin adapts to the confines of life without movement, while seeking to expand the limits of what people in his situation are able to do.

Breathe is a very English film, with the humor and tone that one would expect from the culture. It is inspirational in the way that British culture can often be: approach problems with cheery self-deprecation but a stiff-upper lip, and there's nothing better than a charming little country home. Then again, pure Englishness should be expected from any film that stars Queen Elizabeth II and the Earl of Grantham. Incidentally, this film proves the rule that every modern English film must star at least one cast member from "Downton Abbey" or "Game of Thrones," and this one contains a couple from each, including Diana Rigg, as sharp-tongued here as she was as the Queen of Thorns.

Since the end of the misbegotten Spider-Man reboot, Garfield has returned to his comfort zone in respectable dramas, last year earning his first Academy Award nomination for Mel Gibson's Hacksaw Ridge and doing even better work in the Martin Scorsese epic Silence. It is clear that this is another Oscar vehicle for Garfield, and he is excellent. The comparisons to Garfield's performance are both obvious and Oscar-winning, Daniel Day-Lewis in My Left Foot and Eddie Redmayne in The Theory of Everything, but Garfield's performance is distinct. Whereas Day-Lewis went for volcanic anger as Christy Brown and Redmayne went directly for cloying sympathy playing Stephen Hawking, Garfield goes for something different. He plays the character's wit and humor more than anything, and even though this is the correct choice for the character, it is probably why he will not join the actors as a winner of a gold statue. The work is too self-effacing to demand attention in the same way as Day-Lewis or Redmayne did, even if the work is clearly superior to the latter.
Otherwise, Breathe is a standard film that accomplishes what it sets out to do: cause audiences to shed a tear, feel some introspection about the lives of the disabled and leave the theater generally satisfied. This is a sensible film that rarely aspires to more, except in those moments when it descends into a particularly English whimsy that Foy's performance is fortunately there to temper. Serkis sometimes allows the supporting characters to be a little too eccentric, but Foy's sensible presence acts as a continual balance against that.  
Breathe is not a terribly ambitious film, but it is an effective one. It gives Garfield a chance to shine, extracts the emotions it demands in a dignified way with a bit of humor and does so without much showiness at all. The audience will laugh a bit and cry a bit, but never too much. It isn't the English way.
———————————————————-
Breathe
Bleecker Street Media
Now in theaters
3 Stars
Films are rated on a scale of 5 stars (must-see), 4 stars (exceptional), 3 stars (solid), 2 stars (average) and 1 star (unworthy).
Video Slider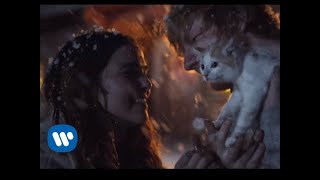 Win Tickets to See Ed Sheeran at the Rose Bowl
Ed Sheeran is back in Los Angeles, and your chance to see him perform is at the Rose Bowl in Pasadena on Saturday, Aug. 18. We are giving away complimentary tickets to the show. For a chance to enter to win, email us at info@lol-la.com with "Ed Sheeran" in the subject line and tell us why you would like to go.