Review: Atomic Blonde Exploits Charlize Theron's Steely Charisma to Its Fullest
Charlize Theron and Sofia Boutella in Atomic Blonde. (Jonathan Prime/Focus Features)
Certain characters seemed designed with the specific intent to inspire Halloween costumes, and Lorraine Broughton as played by Charlize Theron in Atomic Blonde is one of those. With her platinum blonde wig, 1980s chic wardrobe and ever-present cigarette, Theron's Atomic Blonde protagonist is a model of iconography, an amalgam of over-the-top style that is so far removed from any sense of realism, even given the excesses of the Reagan decade, that the character best exists as a costume rather than an actual human being.
Based on a graphic novel and thus adding yet another entry into this summer's comic book film canon, Atomic Blonde takes place primarily in East Berlin during the fall of the Berlin Wall in 1989. Theron's Lorraine is an MI6 agent charged with finding the identities of Soviet spies in Germany and transporting the list to her American and British superiors (John Goodman and Toby Jones, respectively).
She strikes up an uneasy alliance with Percival (James McAvoy, still sporting his Split buzzcut) in order to extract the list of agents, which happens to exist wholly in the mind of a single person (frequent Mike Leigh collaborator Eddie Marsan). The plan is complicated by a French spy (Sofia Boutella, in a far more rewarding role than The Mummy) who targets Lorraine and in turn becomes a target of Lorraine's seduction.
Atomic Blonde really isn't about the particular details of its Cold War-era spy plotting, merely using it as an excuse to make Theron into an action-movie icon on par with her turn as Imperator Furiosa in Mad Max: Fury Road. Theron is often an excellent actress, with an Oscar for Monster and an even better but unrecognized performance in Young Adult, but like Furiosa, this is a film that exploits her striking presence more than her skills as a thespian. It's less a role that needs a Meryl Streep and more one that needs a Michelle Pfeiffer circa the era this film was set, and Theron capably rises to that standard.
Lorraine may be an utterly implausible character – she is essentially Patsy Stone of "Ab Fab" made up as an action hero – but plausibility in a film like this is less important than style. Atomic Blonde exploits Theron's steely charisma to its fullest, and although it might seem trivial to objectify a talent such as Theron by marveling on just how alluring she makes Lorraine, that really is the point of the character and the film itself, right down to the Sapphic love scene aimed squarely at the typical comic book reader.
Even more than Baby Driver, this summer's other action movie aimed at the film fanboy audience, Atomic Blonde is a film that eschews tight plotting for evoking mood, and director David Leitch does quite well at filling the soundtrack with the right type of '80s music and leaning just heavily enough on the fashions of that era without overloading on it. Leitch is also, as one would expect from a former stunt coordinator, quite skilled at filming the fist-fights between Theron and her various foes. The choreography is messier than usual stunt work, and that's the one area where the film goes for more realism instead of less.
Atomic Blonde might not be as coherent a work as Baby Driver, but it serves as an effective complement to this summer's surprise hit. Both are films propelled by mood and soundtrack and serve as more refined alternatives to the typical lumbering action spectacle."Baby Driver might retain its place as the summer's coolest movie, but thanks to Charlize Theron, Atomic Blonde still puts up a nice challenge.  
———————————————————-
Atomic Blonde
Focus Features
In theaters July 28
3 Stars
Films are rated on a scale of 5 stars (must-see), 4 stars (exceptional), 3 stars (solid), 2 stars (average) and 1 star (unworthy).
Video Slider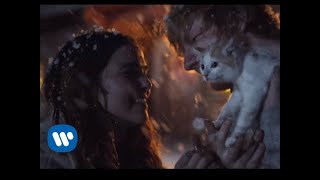 Win Tickets to See Ed Sheeran at the Rose Bowl
Ed Sheeran is back in Los Angeles, and your chance to see him perform is at the Rose Bowl in Pasadena on Saturday, Aug. 18. We are giving away complimentary tickets to the show. For a chance to enter to win, email us at info@lol-la.com with "Ed Sheeran" in the subject line and tell us why you would like to go.