Review: A Bad Moms Christmas Is a Holiday Miracle
Kristen Bell, Mila Kunis and Kathryn Hahn star in A Bad Mom's Christmas.
Few comedy sequels are rarely necessary, and worse, most of them are rarely very good. They are usually, even more than most sequels, blatant cash grabs that just repeat the original film with transparent justifications for a plot. The Hangover 2, for example, was the same film just transposed to a different location. Perhaps only Addams Family Values transcended the original, but the best that most comedy sequels can be is adequate.
Bad Moms was a successful comedy and a surprise hit two years ago, and further proof that the market for female-driven original comedies is consistently underserved, and its sequel, A Bad Moms Christmas, is just as good, if not a little better. It's a holiday miracle.
Mila Kunis, Kristen Bell and Kathryn Hahn return as the trio of imperfect mothers from the original, not quite as rebellious as before but now relieved from the burdens of trying to be perfect. The three women have their holidays complicated by surprise visits by their respective mothers (Christine Baranski, Cheryl Hines and Susan Sarandon), each of whom brings their particular annoyances. Baranski, as the mother of Kunis, is an imperious perfectionist. Hines, as Bell's, is obsessed with her daughter and has no boundaries, while Sarandon as Hahn's is a gambler who pops into her daughter's life only when she needs money. 
Each of the three mothers are pretty basic archetypes, but these are played by actresses with decades of experience who have honed their comic personas with skill. In particular, Baranski plays haughty upper-class WASPs so well that one imagines her with a dry martini even in those moments when she doesn't have one in hand. Baranski is in some sense an American counterpart to Maggie Smith; she is so closely associated with a certain type of elite archetype, but has the skill and flexibility to adapt it for whenever necessary. And Hines, although she is far too young to play Bell's mother (even given that the film explains that she had her daughter young), feels so attuned to Bell's particular comic rhythm that the resemblance is uncanny. They both speak to others as if interacting with unruly puppies who won't understand them. Sarandon, the one genuine movie star, surprisingly has the least to do and feels slightly overshadowed by Hahn, who as before gets the most outrageous material and makes the most of it.
The great relief of A Bad Moms Christmas is how unprepossessing the film is. It sets up its comic premise, doesn't push it too far and has enough laugh for the audience, even where unexpected. Even when the film looks like it's going to go too far over the top at a Christmas party gone wrong, it shows a bit of restraint. The filmmakers seem aware that they don't need huge comic set pieces when they have Baranski, Hines and Sarandon interacting with the younger, talented stars. Things crashing down are rarely as funny as movies seem to think, and there isn't much of that here.
The first Bad Moms was a good but still slightly flawed movie, and even if the sequel improves a bit on it, some of the flaws still remain. The filmmakers are still unreasonably infatuated with the use of slow motion for comic effect, and there's a tendency for the movies to make thesis statements that are a bit too obvious, even if the sequel lets up on that to a certain extent. Mostly, though, A Bad Moms Christmas is a pleasantly mainstream comedy that lets its actresses (and "This Is Us" hunk Justin Hartley, entirely game to be objectified) do their comic bits. It is the rare comedy sequel that is as worthy as the original and justifies its own existence. That's as good a Christmas gift as any.
———————————————————-
A Bad Moms Christmas
STX Entertainment
Now in theaters
4 Stars
Films are rated on a scale of 5 stars (must-see), 4 stars (exceptional), 3 stars (solid), 2 stars (average) and 1 star (unworthy).
Video Slider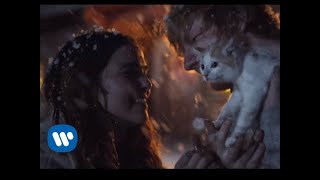 Win Tickets to See Ed Sheeran at the Rose Bowl
Ed Sheeran is back in Los Angeles, and your chance to see him perform is at the Rose Bowl in Pasadena on Saturday, Aug. 18. We are giving away complimentary tickets to the show. For a chance to enter to win, email us at info@lol-la.com with "Ed Sheeran" in the subject line and tell us why you would like to go.