Review: Beauty and the Beast Is Enjoyable But Odd
Emma Watson and Dan Stevens in Beauty and the Beast (Disney)
Disney is releasing a new live-action adaptation of their classic animated feature Beauty and the Beast this week. While hopes are up for there to be something that wasn't there before this time around, the result, I'm afraid is rather odd.
Bill Condon, who is known for bringing faithful adaptations of musicals from stage to screen like with his award-nominated films Chicago and Dreamgirls, was chosen to direct and work his magic on this beloved Disney title. While many of the scenes in the live-action version are recreated beat for beat straight from the animated movie, with mixed results, the flamboyant and lavish imprint of the musical version makes itself noticed and allows the movie to feel like a different beast without being new.
The costuming and set design is sumptuous and inviting, woven with beautiful baroque flourishes and laid out beautifully on a grand, majestic scale that is truly fairy-tale level splendor. An area the live-action version falters in is the charisma quality of the acting, partially in part due to the oddly grotesque CG effects and performances, ultimately failing to deliver the charm of its predecessors both visually and viscerally.  
Part of the appeal of the original animated film version was the exaggerated but graceful movements that classic Disney is known for. The cheeky gags from the original don't quite hit their mark when acted out by living human beings with real-world qualities. Jokes that played broad and exaggerated via the magic of animation can feel small and forced and often miss their payoff.
In a cartoon, inanimate objects are anthropomorphized all the time and add a touch of whimsy, but onscreen, the focus shifts playful to unnerving when seeing the grim reality of what it is like to be cursed and forced to live as a twisted and mutated version of a former self. A talking candlestick or stuffy clock instead become gnarled and hobbled figures trapped in a never-ending body horror they feel a guilt-ridden acceptance of as they are forsaken by their loved ones and slowly lose function and control as the days pass.
The Beast's performance, as acted by Dan Stevens, was painstakingly filmed in two goes, once in a motion-capture suit and stilts, and another time as a disembodied face, which is quite the challenge for any actor. The fact the leads are not actually interacting in the scenes and all the emotion is added in post makes it hard to feel any chemistry between Emma Watson and her highborn yet monstrous captor turned love interest.
The 3D conversion for Beauty and the Beast is not where it should be at. Lush picturesque scenes are reduced to flat pop-up book cutouts. Action like a snowball flying at the screen or candles flying don't seem to be shot to be viewed in 3D effectively and do nothing more than cause uncomfortable flinching. The editing seemed jarring, sometimes cutting from a scene into an insert shot of cutting a fish in a market or to the character miles away, which if you are watching in 3D becomes an unexpected assault on the senses. If you want to catch all the detail and beauty of the sets, pass on the upgrade for this film.
While there is some controversy about the shift in the way the character LeFou (Josh Gad), who is the doting companion of the dastardly Gaston (Luke Evans) is depicted, it seems like a mountain being made of a molehill. While the character is played as more than implicitly "out," it's not an edgy out, more like being out in middle school when it mainly involves gazing and sighing at how dreamy someone is. The performance is sweet and decisively PG-rated, unless having a fully unrequited crush is now suddenly groundbreaking.
Those who are already dedicated fans of the animated classic or the Broadway adaptation will flock to the theaters to see it despite these misgivings, nearly certainly ensuring financial success and a big opening weekend box office. If you are nostalgic or just wanting to share the magic with a new generation, you will still enjoy being a guest, just don't make it your summer home.
———————————————————-
Beauty and the Beast
Walt Disney Pictures
In theaters March 17
3 Stars
Films are rated on a scale of 5 stars (must-see), 4 stars (exceptional), 3 stars (solid), 2 stars (average) and 1 star (unworthy).
Video Slider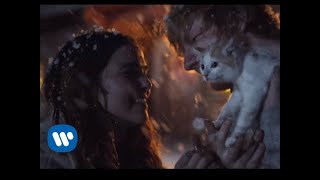 Win Tickets to See Ed Sheeran at the Rose Bowl
Ed Sheeran is back in Los Angeles, and your chance to see him perform is at the Rose Bowl in Pasadena on Saturday, Aug. 18. We are giving away complimentary tickets to the show. For a chance to enter to win, email us at info@lol-la.com with "Ed Sheeran" in the subject line and tell us why you would like to go.