Review: The Belko Experiment Aims for Shock and Fun but Doesn't Hit Target
Tony Goldwyn in The Belko Experiment
There's been a lot of comparisons of The Belko Experiment to the great satirical killing spree in Battle Royale but with the humor of "Office Space." The Belko Experiment actually doesn't reach the height of either film or create something of its own unique enough to stand out.
While employees of the Belko Corporation expected just another day at the office, they face a violent nightmare when a mysterious voice informs them that the building is under siege, and it's kill or be killed. And so 80 employees find themselves in a moral dilemma, questioning if it's all a joke or real as people's heads begin to explode.
Starring John Gallagher Jr. (10 Cloverfield Lane), Tony Goldwyn ("Scandal"), Adria Arjona (Pacific Rim 2), Sean Gunn (Guardians of the Galaxy), Michael Rooker (Guardians of the Galaxy), John C. McGinley and Melonie Diaz, the film follows the workers as they begin to realize they're part of a sick game and trapped having to kill each other. Ultimatums and time limits threaten them as they come to terms with their fate, pushing them to a complete an utter bloodbath where only one can be left standing.
Directed by Greg McLean from a script by James Gunn (Guardians of the Galaxy) and released by BH Tilt and Orion Pics, the film makes an effort to balance the line between comedy and horror, but the pacing misses the punchlines. There are moments of goretastic fun that are a blast to watch the setups for, but some of them take too long to clear the buildup.
The film doesn't quite offer a solid satirical motivation for the story for it to feel justified. Lots of scenes felt like they were diving into the horror of what's going on but then would pan to or cut to something funny that didn't fit. Fans of dark humor will be able to tell the difference between this and films like The Cabin in the Woods where it worked effortlessly.
It's decent, in that, the actors prop the film up with believable performances. Arjona and Gallagher Jr. still feel like they needed more, Rooker makes a great turn as a kindly fellow, Goldwyn was terrifying and McGinley nailed his part, but maybe it's just that there were too many characters to try to fit in that it overstuffed the premise.
Overall, the film is entertaining horror that meets basic benchmarks but doesn't surpass the bar set by films that came before. Not quite a game changer but decent horror for the sake of seeing this cast work together and maybe get a few chuckles with some imaginative shooting for the gory centerpieces.
———————————————————-
The Belko Experiment
BH Tilt, High Top, Orion
In theaters March 17
3 Stars
Films are rated on a scale of 5 stars (must-see), 4 stars (exceptional), 3 stars (solid), 2 stars (average) and 1 star (unworthy).
Video Slider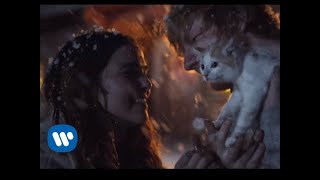 Win Tickets to See Ed Sheeran at the Rose Bowl
Ed Sheeran is back in Los Angeles, and your chance to see him perform is at the Rose Bowl in Pasadena on Saturday, Aug. 18. We are giving away complimentary tickets to the show. For a chance to enter to win, email us at info@lol-la.com with "Ed Sheeran" in the subject line and tell us why you would like to go.