Review: The Best Epic Adventure Film in Ages, The Lost City of Z
Robert Pattinson and Charlie Hunnam in The Lost City of Z (Aidan Monaghan/Amazon Studios & Bleecker Street)
The name Percy Fawcett is largely unknown to Americans, but the influence of the English geographer and archaeologist is keenly felt, in no small part because he is considered to be one of the possible inspirations for Indiana Jones. Fawcett is the subject of James Gray's The Lost City of Z, which compares favorably to Steven Spielberg's classics and far outstrips the unnecessary 2008 sequel while departing from the adventure series in notable, fascinating ways. This may be the best film James Gray has made and certainly the best performance from the man who plays Fawcett, "Sons of Anarchy" star Charlie Hunnam.
The Lost City of Z recounts Percy Fawcett's three journeys to South America as part of the British army to map the region and later to discover the remnants of a lost civilization believed to be in the Bolivian jungles, along with a portion not devoted to exploration in which Fawcett fights during the first World War. The film is epic in scope and aspiration, which not only recalls Spielberg, but also the films of John Huston, who enjoyed epic tales that blended masculine madness and courage together, like he did in The Man Who Would Be King.
Huston had Sean Connery and Michael Caine at his disposal. James Gray has Hunnam and Robert Pattinson. This might seem to place The Lost City of Z at a grave disadvantage, except for the surprising fact that both actors are really quite good in their roles. Pattinson, freed from the idiocy of the Twilight series, may get some of the critical reappraisal that his co-star Kristen Stewart has received, even if in Stewart's case the pendulum has swung wildly in the other direction (Neither actor was ever as terrible as people claimed then, nor is Stewart as good as critics claim now.). Pattinson plays Hunnam's sidekick with a knowing twinkle, and a career as a character actor might suit him better than that as a leading man.
As for Hunnam, the actor has always seemed on the verge of true stardom, but none of his roles have ever quite fit perfectly. Pacific Rim disappointed in various ways, and even his long-running role as Jax Teller on "Sons of Anarchy" required a great deal of monotonous moping, albeit by design. It was Hamlet on Harleys, after all. Perhaps the best notices Hunnam has received for his career are for a role he didn't play after he backed out from playing the lead in Fifty Shades of Grey. Percy Fawcett finally fulfills Hunnam's promise. He doesn't overplay the man's madness or even do what one might expect by playing Fawcett as a laconic tough guy. Hunnam plays him as cheerful instead of tortured, drawn to adventures because they are a thrill.
It is a credit to The Lost City of Z that even the roles that seem the most cliched are a step above the standard. Sienna Miller plays Fawcett's long-suffering wife but finds unexpected notes in the type of role where an actress has to sigh longingly at her crazy spouse. After Foxcatcher and American Sniper, it's familiar territory for Miller, but she elevates it through a passion those roles usually lack. Tom Holland, soon to star as Spider-Man, also does the same as Hunnam's teenage son. Both wife and son don't just go the expected route of wanting Fawcett to abandon his adventures, they want in on them.
The Lost City of Z feels expansive in a way that few modern films do. Perhaps only The Revenant among recent movies approaches this one's scope, but this film offers pleasure instead of sadism and doesn't engage in half-baked notions of spirituality in order to give it depth. It is an epic that people can enjoy instead of endure, filled with the same sense of beauty and awe that Percy Fawcett feels while exploring the jungles of South America. The Lost City of Z is the best adventure film in ages and the career-best work for nearly everyone involved.  
———————————————————-
The Lost City of Z
Amazon Studios & Bleecker Street Media
Now in theaters
5 Stars
Films are rated on a scale of 5 stars (must-see), 4 stars (exceptional), 3 stars (solid), 2 stars (average) and 1 star (unworthy).
Video Slider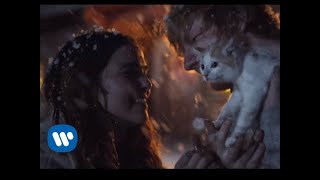 Win Tickets to See Ed Sheeran at the Rose Bowl
Ed Sheeran is back in Los Angeles, and your chance to see him perform is at the Rose Bowl in Pasadena on Saturday, Aug. 18. We are giving away complimentary tickets to the show. For a chance to enter to win, email us at info@lol-la.com with "Ed Sheeran" in the subject line and tell us why you would like to go.