Review: The Big Sick Is Consistently Funny and Perceptive
Kumail Nanjiani and Zoe Kazan in The Big Sick (Sarah Shatz)
Kumail Nanjiani and Emily V. Gordon wrote The Big Sick based on their own relationship, and it shows. There is a rare sense of reality to this romantic comedy-drama that most similar movies rarely achieve, whether in the actual issues that the story raises or the characters' reactions to what happens to them throughout the film. Even some of the smaller details in the movie are drawn from the now-married couple's courtship – and if knowing that Nanjiani's and Gordon's on-screen alter egos do end up together spoils the movie, it's a romantic comedy, not a tragedy.
The Big Sick, like most of the successful romantic comedies of the past decade, was produced by Judd Apatow, who learned to disguise the standard model of the romantic comedy while still adhering to its basic tenets. An Apatow romantic comedy might not be as basic as Kate Hudson meeting Matthew McConaughey so they can bicker for 90 minutes before declaring their love, but the result is the same. Apatow's leads tend to be less conventionally attractive, whether schlubbier (Seth Rogen), older (Steve Carell) and now here, a Pakistani Muslim, which would have been unthinkable during the Meg Ryan and Julia Roberts heyday of the genre. Apatow's female leads might get less latitude to deviate from the Hollywood ideal, but actresses like Catherine Keener and Zoe Kazan, who plays the fictionalized version of Emily Gordon in this film, aren't exactly giggly Cameron Diaz model types, either.
In The Big Sick, Nanjiani ("Silicon Valley") and Kazan (Ruby Sparks, What If) play a stand-up comedian and graduate student, respectively, who meet when she attends one of his performances and heckles him (As he explains, any distraction during a show, even a positive one like the one she offered, counts as heckling to a comedian.). The two begin dating, but Kumail cannot tell his devout Muslim parents that he is dating a non-Muslim, and he pretends to be interested in an arranged marriage in order to placate them. When Kazan's Emily learns this, she breaks up with him and then shortly thereafter is hospitalized for a mysterious illness for which she has to be put in a medical coma. Her parents (played by Holly Hunter and Ray Romano) soon arrive and develop an uneasy bond with Kumail during Emily's coma. As an ex-boyfriend, Kumail is an interloper, but he is still thrust into a position of influence for both Emily and her parents, who have nowhere else to turn for solace.
The Big Sick is messy and complicated in all of the ways relationships are in the real world, and the film understands that no couple exists in isolation. The relationship between Kumail and Emily affects his family deeply, just as the strain between Emily's parents affects their daughter and her care. Hunter, Romano and Nanjiani are all adept at navigating this emotional awkwardness, and all three are quite funny. Romano might be the best surprise, since he relies less on his hangdog everyman shtick far less than he did when he was the king of the CBS sitcom.
Where The Big Sick falters most is its focus on the struggles Nanjiani faces in his stand-up career. The indignities comedians face have been well-documented by nearly every stand-up who gets a sitcom, and it rarely is as interesting to the audience as it is to comedians themselves. With the explosion of streaming television, it seems like every comic with a decent following gets their autobiographical show that intends to be the next "Louie," and they never are.
Also, like so many movies that Apatow produces, The Big Sick is a bit longer than it needs to be. Nearly every movie he has done could be improved by removing 10 to 15 minutes of excess material, and as good as The Big Sick is, that still applies here.
The Big Sick is a consistently funny movie, but what makes it stand apart is that it is a perceptive one. It ultimately suggests that life is complicated, and that is precisely what is funny about it.
———————————————————-
The Big Sick
Amazon, Lionsgate
Now in select theaters; everywhere July 14
4 Stars
Films are rated on a scale of 5 stars (must-see), 4 stars (exceptional), 3 stars (solid), 2 stars (average) and 1 star (unworthy).
Video Slider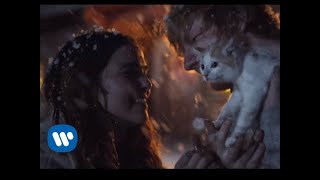 Win Tickets to See Ed Sheeran at the Rose Bowl
Ed Sheeran is back in Los Angeles, and your chance to see him perform is at the Rose Bowl in Pasadena on Saturday, Aug. 18. We are giving away complimentary tickets to the show. For a chance to enter to win, email us at info@lol-la.com with "Ed Sheeran" in the subject line and tell us why you would like to go.