Review: The Black Queen Fulfill a Fever Daydream for Crowd at Union
By Evan Solano on January 2, 2017
@evansolano
The Black Queen enthralled the crowd at Union. (Evan Solano/LOL-LA)
For a relatively new band– who just released their debut album early last year and have only played a handful of live shows to have garnered this massive of a turn out on a rainy Friday night in Los Angeles on the final night of 2016 is a feat on its own. But the Black Queen aren't your typical music group.
The brainchild of two vastly different musician, The Black Queen are comprised of electronic musician/producer Joshua Eustis (Telefon Tel Aviv, Nine Inch Nails, Puscifer) and singer Greg Puciato from metal/mathcore titans The Dillinger Escape Plan .
From the moment word got out the two were collaborating on a project in 2014, fans of the metal and electronic community clamored with anticipation for two years until they finally released Fever Daydream in February 2016.
Despite the overwhelming response to the album, the duo (with the addition of Dillinger guitar tech Steven Alexander) only played a small run of shows in the U.S. and Europe throughout the year, adding to the mysterious hype surrounding the group. Friday night's intimate show at Los Angeles' new venue Union, marked the band's sixth U.S. appearance.
Rain be damned, for what would be the band's final 2016 show, the mixed bag of hipster music nerds, metalheads, industrial fans and random weirdos dressed like J.P. from Grandma's Boy and extras from Queen of the Damned, all lined up around the block in the cold, wet L.A. weather to catch a truly unique and stellar lineup.
Opening the show was local synth and electro music producer Vogel, whose stylish slicked back hair and "Blade Runner-era biker gang" leather jacket complimented bright and jarring visuals projected behind him as he commanded the crowd to dance with his catchy and driving blend of '80s synth and EDM. His style of electro, similar to artists like Kavinsky, Com Truise and Justice, plays like the soundtrack to an early '80s sci-fi action movie set in the future. Vogel's performance was a great warm up to the evening ahead.
Following Vogel's set was a rare performance from Eustis' main project Telefon Tel Aviv, that now consists of only Eustis following the death of co-founder Charles Cooper in 2009. After Cooper's death, Eustis put the project on hiatus and became a touring member of Nine Inch Nails in 2013 as well as working with Tool frontman Maynard James Keenan on his project Puscifer, while also releasing a trio of albums under the moniker of Sons of Magdalene.
Telefon Tel Aviv has not released a new album since 2009's Immolate Yourself, and Eustis has remained just as elusive in performing under the name. Friday's performance was his second time performing in Los Angeles in more than six years, and the long-awaited hope of seeing them live once again was felt immediately as the stage lights dimmed and the opening song started playing through the PA.
Every room in the upstairs venue's other bar areas was totally empty as Eustis triumphantly returned to the stage to a transfixed audience ready for an intimate and beloved set of music. Behind a cloud of smoke and lights, Eustis' set was mesmerizing and visceral, consisting of cuts from the group's early work on Fahrenheit Fair Enough and Map of What Is Effortless.
Eustis closed out his set with the hypnotically haunting "The Birds," the opening track from Immolate Yourself, but as the song was reaching a mesmeric groove, it abruptly stopped to the surprised of the crowd– as well as Eustis himself.
"Well, this is embarrassing. That wasn't supposed to do that," Eustis coolly joked as he tried explaining what was supposed to come next from behind his minimal-yet-intricate keyboard and programming rig.
After quickly fixing the problem, he playfully asked the crowd, "I can either start over again or just go from where I left off?" Needless to say, the crowd was treated to a second helping of the atmospheric, driving and waves of soothing, layered vocals all coming from the multitalented frontman.
As Eustis left the stage (only to return moments later), the anticipation of finally seeing a band that only five other lucky audiences in America have been able to see live was at a fever high. Whether it was rain that kept people inside or the urge to push their way up to the front, the air in the small venue was palpable with excitement and a few other interesting herbal aromas that snuck into the club.
Enveloped in darkness, the band finally emerged as Eustis, once again behind his rig, began the eerie and atmospheric "Strange Quark" before fully kicking into the minimal and "latter-day Nine Inch Nails" inspired track "Distanced." Frontman Greg Puciato, who is prone to fire breathing, jumping from PA speakers, stage diving, and intense stage performances with the Dillinger Escape Plan, traded his maniacal persona for a cool, suave and almost seductive performance that was more Michael Hutchence than Henry Rollins, as he crooned his pensive and somber lyrics to the crowd that was already under the spell of the song's hypnotic rhythm.
Turning on a dime, the group kicked into the dancier track  "That Death Cannot Touch," a song that feels like a lost track from Ultra-era Depeche Mode but still has the poppy melodies of '80s groups like INXS. The blaring light show only allowed the audience to see Puciato's silhouetted frame dance and move across the stage, mic stand in tow as he commanded the crowd in a way that was as intense as his frenzied and loud alter ego would had this been a Dillinger show.
For only having released a single album, the group's set felt like a collection of hits that the audience had been fiending on all year. The group went into their single, "Silent Scream,"  a pulsing, dark-synth track which is probably the catchiest song on Fever Daydream with lyrics that feel like they were taken from Trent Reznor's lyricbook, especially as he was belting out the chorus "I need to see you open up for me / I need to get you inside of me / I need to see you open up for me / I need to get you in."
Keeping the dancy darkwave songs going, they jumped into "Ice To Never." The unabashed '80s-influenced track had everyone in the crowd moving as Puciato juxtaposed his raw and visceral words over the beautifully rhythmic beats of Eustis who was hidden behind the bursts of bright lights.
Every nuance and driving rhythm that the trio had poured into the song was captured live with great detail. The almost blinding light show was a perfect way to keep the mystery of the trio on stage as they played through ghostly ethereal songs like "Maybe We Should/Non-Consent" and "The End Where We Start."
A little after 1 a.m. and officially into the last day of 2016, the band winded down their set with the album closer "Apocalypse Morning," which starts with a "Purple Rain" feel, with Eustis' airy and wistful rhythms entwining with Puciato's stirring and emotive falsetto. The latter half of the song comes crashing in like a sudden wave of guitar as Alexander and Puciato, who picked up a guitar as well, created a wall of distortion and crushingly melancholic riffs that build and build until the final notes rang out and Puciato thanked the audience before exiting the stage, with Eustis and Alexander soon joining after to roars of applause.
For those there that night, it was a memorable evening to close out an otherwise terrible year for music fans coping with the loss of some amazing artists like Bowie and George Michael, who had such a huge influence on combining electronic music and deeper lyrics with club synth-pop music almost 40 years ago.
With Dillinger Escape Plan announcing that they would be taking an "extended hiatus," Puciato may now have the chance to focus more on the Black Queen in 2017 and hopefully give fans more than select few chances to see them live. But at least for the night, a trio of amazingly talented musicians from far corners of the music spectrum were able to send off 2016 in a truly remarkable fashion.
Evan Solano is a Staff Reporter for Living Out Loud - LA, covering arts and entertainment. Follow him on Twitter:
@evansolano
Video Slider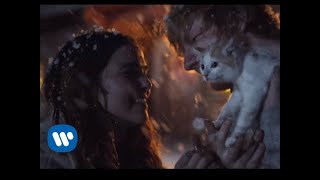 Win Tickets to See Ed Sheeran at the Rose Bowl
Ed Sheeran is back in Los Angeles, and your chance to see him perform is at the Rose Bowl in Pasadena on Saturday, Aug. 18. We are giving away complimentary tickets to the show. For a chance to enter to win, email us at info@lol-la.com with "Ed Sheeran" in the subject line and tell us why you would like to go.