Review: Blade Runner 2049 Does Justice to the Original and Is Well Worth the Wait
Joi (Ana de Armas) and K (Ryan Gosling) in Blade Runner 2049 (Warner Bros.)
Blade Runner 2049, the long-awaited sequel to the 1982 science-fiction classic by Ridley Scott, is a film with presence. As directed by Denis Villeneuve, recently Oscar-nominated for Arrival, the movie announces itself as a film of consequence, a monument to what a film can achieve when it employs all of the technical marvels of modern filmmaking.
Perhaps more than any recently blockbuster not directed by Christopher Nolan, Blade Runner 2049 is a film of expansive technical process and even more expansive ideas. If technology needed to develop for 35 years to catch from the original Blade Runner in order to achieve what Villeneuve does, every year that passed was entirely justified.
Revealing many of the particulars of Blade Runner 2049, whether they involve the relationships among the characters or the storyline itself, would essentially constitute a spoiler. This is a film that should be experienced as a surprise, with as little knowledge as possible.

What may be revealed is that the film takes place three decades after the events of the original Blade Runner during a post-apocalyptic future. Ryan Gosling stars as K, a Blade Runner working for the LAPD tasked with tracking down replicants created by the now-defunct Tyrell corporation, just like the original's protagonist, Rick Deckard (Harrison Ford), did before.

K's work tracking down replicants leads him to encounter Deckard, but explaining Deckard's role in the story would give away one of the film's many secrets. In fact, if Deckard were played by anyone but Hollywood's most iconic living star, one suspects that Warner Brothers would have kept his appearance secret, but putting Ford on each poster was impossible to resist.

And yet the appeal of Blade Runner 2049, like its predecessor, is not the film's story. What made Scott's original film a classic was not the progression of the plot, as demonstrated by the numerous edits and re-edits that the director made over the years. The film cemented itself as iconic well before Scott improved it, because the original created such a detailed vision of the future. The film was a marvel of production design, and Blade Runner 2049 is its equal in that regard, yet on a larger scale than the original could manage.

The Los Angeles of the original was forward-looking yet drew from the gritty urban hell-scape that was New York in the 1970s, essentially part Star Wars, part Taxi Driver. Villeneuve portrays the world with a chillier, almost Kubrickian sheen, aided by some of the best work that cinematographer Roger Deakins has ever done. The original Blade Runner was one of the most visually-striking modern films, but the sequel surpasses even it thanks to the collaboration between Deakins and Villeneuve.

Also much in the vein of the original Blade Runner, the sequel populates its world with memorable supporting roles, primarily for its women. Sean Young, Daryl Hannah and Joanna Cassidy broke through with mainstream audiences with their work in the original, and Villeneuve provides equal opportunity for Ana de Armas, Sylvia Hoeks, Mackenzie Davis and Carla Juri, as well as another entry into Robin Wright's canon of imposing female commanders. Once again, revealing the particular nature of each of these women's roles would spoil many of the film's pleasures, but de Armas and Juri are surprisingly affecting in a film genre not generally given to emotional heft.

Blade Runner 2049 once again considers what it means to be alive, yet expands on the questions of the original through characters who straddle the divide between replicant and human, and through events that call into question the power of memory. The first Blade Runner was a science-fiction film for the post-George Lucas film world. This one is for the post-Christopher Nolan landscape.

At times the questioning becomes a bit ponderous, but that is the difficulty of considering such issues. It is nearly impossible to do it with a light touch, although Villeneuve does the best he can to make this very long, very serious film move as briskly as possible. A lesser filmmaker might allow Blade Runner 2049 to sink under the weight of its elaborate production and seriousness, but Villeneuve largely succeeds.

It is hard to tell whether Blade Runner 2049 will have the same impact as its predecessor, but in terms of the film's quality, the sequel matches or surpasses the original (Although Scott's Blade Runner is undoubtedly influential and deservedly well-regarded for certain aspects, there are flaws in every one of its versions.). Unlike many long-delayed sequels to '80s films, Blade Runner 2049 does justice to the original and even expands upon it. It is worth the wait.
———————————————————-
Blade Runner 2049
Warner Bros. Pictures
Now in theaters
5 Stars
Films are rated on a scale of 5 stars (must-see), 4 stars (exceptional), 3 stars (solid), 2 stars (average) and 1 star (unworthy).
Video Slider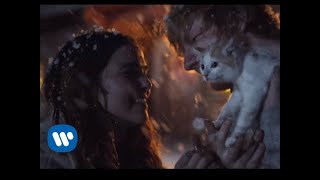 Win Tickets to See Ed Sheeran at the Rose Bowl
Ed Sheeran is back in Los Angeles, and your chance to see him perform is at the Rose Bowl in Pasadena on Saturday, Aug. 18. We are giving away complimentary tickets to the show. For a chance to enter to win, email us at info@lol-la.com with "Ed Sheeran" in the subject line and tell us why you would like to go.