Review: The Boss Baby Provides a Bit of Nostalgia
Boss Baby (Alec Baldwin) tries to convince Tim (Miles Bakshi) that they must cooperate in The Boss Baby. (DreamWorks Animation)
Let's start with the plot: A baby and his 7-year-old brother have to join forces in order to take down the villainous Puppy Co. CEO. Now, I know what you're thinking, but this movie was a nostalgic rollercoaster ride. It was everything a children's movie is supposed to be. I know I'm in my 20s, but this movie gave me delightful flashbacks of watching films as a kid and believing that fiction could be reality.
The story revolved around two characters, a baby and his 7-year-old brother who have to get over their childish differences – no pun intended – to save the future of babies in the universe. The Boss Baby was sent on a mission, so yes, Alec Baldwin, who voices the Boss Baby, was a bit like Tom Cruise.
Tim Templeton is the 7-year-old, who up until the Boss Baby came around, had all the love and attention he needed from his parents, Ted and Janice Templeton. In a series of events that seemed to transpire overnight, he watched as the baby became the center of the universe for the Templeton's.
Now, I didn't have any brothers or sisters, but this film made me realize how fortunate I was to not have had anyone to compete with for attention, toys to play with or who gets to pick the first slice of pizza. The nostalgic scenes came and went throughout the movie. There was one specific scene that took place in the Templeton's backyard where an army of five babies was chasing after Tim in carts and tricycles. The visuals for this scene were a perfect blend of action and humor, and it coincidentally had everyone in the theater laughing.
As the plot develops, we learn the story behind the Boss Baby and his spy potion that prevents him from aging. We witnessed the two brothers travel through a mythical pirate-dream and defeat the captain and his crew in a sword fight. Yes, it got a bit cliché, but let's remember that this movie is directed at children.
As the story began to tie all the loose ends together, we saw the bond between the characters go from wanting to defeat one another to them wanting to join forces for the greater good. They work together to stop the evil CEO of Puppy Co. whose evil plan ultimately ends with puppies replacing babies.
I thought the storyline was great – for children. For us older viewers, I thought the graphics and illustrations were amazing. The selected voices fit perfect, and I think Alec Baldwin did a phenomenal job playing the role of the Boss Baby.
———————————————————-
The Boss Baby
Twentieth Century Fox
Now in theaters
3.5 Stars
Films are rated on a scale of 5 stars (must-see), 4 stars (exceptional), 3 stars (solid), 2 stars (average) and 1 star (unworthy).
Video Slider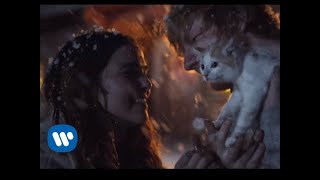 Win Tickets to See Ed Sheeran at the Rose Bowl
Ed Sheeran is back in Los Angeles, and your chance to see him perform is at the Rose Bowl in Pasadena on Saturday, Aug. 18. We are giving away complimentary tickets to the show. For a chance to enter to win, email us at info@lol-la.com with "Ed Sheeran" in the subject line and tell us why you would like to go.