Review: Brilliant Performances Among Several Reasons to Watch "American Falls"
Tomek Adler and Karl Herlinger in "American Falls" (Darrett Sanders)
In the Offspring's 1998 hit single "The Kids Aren't Alright"  from their album, Americana, the Orange County punk band take an uncharacteristic dark turn to chronicle the trajectory of a group of kids as they enter adulthood, and how not every one of them turns out "alright." In short, the song serves as a cautionary tale that shows how much a child's trajectory hinges on their environment and on the adults (or lack thereof) in their lives. Despite the song's serious subject matter it was poignant enough to strike a chord with audiences and went on to become one of their signature songs.
If the Offspring scratched the surface on the matter of growing up and finding meaning in three minutes, the Echo Theater Company's "American Falls" gives you a guided tour in an hour and a half in a vivid play with first-rate performances all around. Written by Miki Johnson and directed by Chris Fields, "American Falls" is presented as a "poetic and sensuous interplay of stories and monologues that exposes the inner life of everyday people desperately seeking meaning and love." But to take it one step further, it is an anthology of stories – each protagonized by multilayered characters – revolving around Samuel (Karl Herlinger), a man with a wounded soul, brimming with anguish.
The primary storyteller is Billy Mound of Clouds (Leandro Cano), a Native-American man who lives next door to Samuel in the town of American Falls and has enough pop culture expertise to be a human TV Guide magazine. Samuel's late wife, Lisa (Deborah Puette), herself a tortured soul who committed suicide, and alcoholic mother (Barbara Tarbuck) are the main reasons behind Samuel's suffering.
The play is dark by nature, but with every appearance of the endearing Billy comes a comedic break from all the seriousness. It asks questions of meaning and love but provides no clear answers. Rather, the play explores how people deal with pain and the meaning of family.
Well written, never preachy and brilliantly performed, "American Falls" is a thought-provoking slice of Americana.
"American Falls" runs through Oct. 18, with performances Fridays (8 p.m.), Saturdays (8 p.m.) and Sundays (4 p.m. and 7 p.m.) at the Atwater Village Theatre. Tickets are $25 and can be purchased by calling (310) 307-3753 or visiting echotheatercompany.com.
Video Slider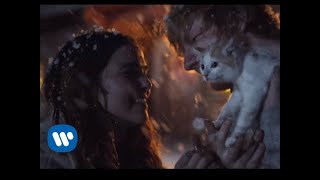 Win Tickets to See Ed Sheeran at the Rose Bowl
Ed Sheeran is back in Los Angeles, and your chance to see him perform is at the Rose Bowl in Pasadena on Saturday, Aug. 18. We are giving away complimentary tickets to the show. For a chance to enter to win, email us at info@lol-la.com with "Ed Sheeran" in the subject line and tell us why you would like to go.