Review: Camilo Sesto Charms Audience at Microsoft Theater
Spanish singer / songwriter Camilo Sesto performs on Friday, June 2, 2017 at Microsoft Theater. (Marvin Vasquez / LOL-LA)
There is no doubt in anyone's mind that Camilo Sesto has one of the best voices when it comes to songs sung in Spanish, and he has since the 1960s.
Dubbed the "The Sinatra of Spain," Sesto brought his "Camilo 70" tour to the Microsoft Theater on Friday, June 2, 2017 and delivered an impeccable performance before the packed venue, showing his voice remains ever desirable to listen to.
As his two-hour spectacle began, Sesto appeared on stage to an awing standing ovation – one he unarguably deserves anywhere he goes. Sure, it was the beginning of the show, but this standing ovation seems as if it was given to him based on what he cultivated in his prime – hit after hit, musical beauty after musical beauty.
"Tarde o temprano" and "Dónde estés y con quien estés" came in his first of two sets on the night. While "Dónde estés y con quien estés" served as a soothing romantic ballad, "Tarde o temprano" was a touching, mid-tempo tune that fans clapped along to.
Prior to a brief intermission (where his orchestra remained playing, and backup vocalists came on stage to entertain for about 10 minutes), Sesto sang "Mi mundo tu" and "Terciopela y piedra" as he continued to help bring back fans' youthful memories from times past growing up.
Sesto (now dressed somewhat with an elegant matador-looking attire) soon began his second act of melodies with "Melina," as a beautiful solo saxophone sound got him going. One of my personal favorites in "Jamas" arrived shortly, and it filled me up inside with joy while taking me back to my teen years listening to this track. My parents are super fans of Sesto, who has sold over 175 million albums worldwide, and I grew up listening to his music at home and in the car while on road trips.
"Quieres ser mi amante" surprised me a lot. Not only did it sound better live, but the crowd sang along from start to finish. This was one of the best moments during the concert, one that I become an immediate part of as I also joined in while singing along.
Before calling it a night, Sesto rendered his best in "Perdóname." And I even saw some people crying, not sure if it was because the show ended and they wanted more of Sesto or if they were ecstatic at having seen him perform live in person.
Either way, Sesto charmed Los Angeles on this summer night.
Video Slider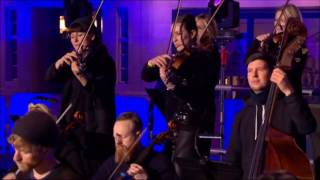 Win Tickets to See Pete Tong at Hollywood Bowl
Pete Tong is back in Los Angeles, and your chance to see him perform is at Hollywood Bowl on Thursday, Nov. 9. We are giving away complimentary tickets to the show. For a chance to enter to win, email us at info@lol-la.com with "Pete Tong" in the subject line and tell us why you would like to go.