Review: Carcass and Crowbar at the Roxy – British Steel Versus Southern Sludge
Jeff Walker and Carcass were met with roars of approval at the Roxy Sunday night. (Evan Solano/LOL-LA)
In the early '80s, when hair metal ruled Hollywood's Sunset Strip and glammed up the airwaves by shouting "at the Devil" and watering down the idea of what heavy music was, there was a new uncompromising hybrid of punk and metal that was far from radio friendly and would push the boundaries of true underground music forever: grindcore.
With raw, churning buzzsaw riffs, guttural vocals screaming about autopsies and surgical terminology over unrelenting blastbeat all smashed into 30-second long tracks, U.K. grind legends Carcass became the archetype of what would eventually become the modern-day death metal/grindcore scene. On Sunday, July 24, amidst the glitz and glamor of Hollywood, they – along with New Orleans sludge legends Crowbar – took back the Strip for the diehard metal fans who have long believed there was more to heavy metal than the mainstream idea most people had.
Carcass, who reunited in 2007 after a 11-year hiatus, have been touring the world, playing massive open air festivals in Europe and big draw metal fests stateside since their reformation. After nine years of playing to thousands of fans on massive stages, the group returned to their club roots, playing to a crowd of 500 lucky fans in a sold-out show at the legendary Roxy Theatre.
Joining them were local L.A. proto-metal revivalists Night Demon and Oakland horror thrashers Ghoul.
Night Demon, whose blend of early thrash-meets-NWOBHM, harkened back to a time when bands like Motorhead, Iron Maiden and Judas Priest ruled the late '70s/early '80s. The band has developed a steadfast following over the year, and their blend of proto-thrash was a refreshing throwback to when there was a rise of leather and denim-clad metal purists who countered the teased hair and makeup that infested the Strip.
Ghoul's raw and gritty thrashy/death metal style was a total throwback to bands like Repulsion, Exhumed, Autopsy and Entombed mixed with the campy esthetic of bands like GWAR. Donning hoods, singers Ross "Cremator" Sewage and Sean "Digester" McGrath, who play bass and guitar respectively, swapped between thrash screams and death metal lows as the rest of the band played the perfect soundtrack for everyone in the pit to mosh and slam into one another in a frenzy.
Any opportunity to hear Crowbar live is akin to listening to two planets colliding into each other slowly, and in the small room of the Roxy, their sound was absolutely punishing. Starting their set with "Conquering" from their 1996 album, Broken Glass, guitarist Kirk Windstein and the rest of the band bombarded the crowd with slabs of monolithic doom-laden riffs that have come to define the band's signature sound throughout their storied career.
Turning back to 1993's self-titled debut, "High Rate Extinction" had almost every person in the crowd slowly headbanging and grooving with every drawn-out, twisted note. The band also included their cover of Led Zeppelin's classic "No Quarter," which they completely transformed from the slow, proggy sound made famous by Plant and Page, to a downtuned funeral-dirge that would only have reminded you of Zeppelin because of the lyrics.
As the lights went black and the curtain raised for the legendary British grinders, the excitement and fevered anticipation in the air was palpable. There was a not a single place to move as every person was swarming over one another to get to be front row for this once-in-a-lifetime chance to see Carcass this close and personal.
The P.A. began playing the intro track, "1985," from Surgical Steel, their newest album in more than 17 years which was released in 2013, as guitarists Bill Steer and Daniel Wilding, along with drummer Ben Ash and their enigmatic leader, bassist/frontman Jeff Walker walked out to massive roars of approval. Wasting no time, the band launched into "Unfit For Human Consumption," and the crowd countered with an almost knee-jerk reaction and began pulverizing each other and headbanging.
The band went back in time to their groundbreaking 1993 album, Heartwork – playing "Buried Dreams"– following up with "Incarnated Solvent Abuse" from 1991's Necroticism – Descanting the Insalubrious, an album that began the evolution of Carcass' sound from spastic, frenzied grind to a refined-yet-heavy style with the addition of former guitarist Michael Amott.
Between songs Walker took the time to acknowledge the irony of Carcass playing a venue mainly known for its glam-metal past.
"I think Poison played here once, right?" he asked the crowd before chiding them on further, "You guys are moshing like Cinderella fans!"
At one point he took out a DVD from Swedish power metal group Sabaton and charmingly tested the audience's ability to destroy it as quickly as possible and launched the pieces back on stage as they ripped into "The Granulating Dark Satanic Mills" and "Captive Bolt Pistol" off their latest album. From that point, the focus of the night laid mainly in the band's extensive back catalog. Their classic tracks  "Reek of Putrefaction" and "Exhume to Consume" from 1989's Symphonies of Sickness, which already were menacing when they were first released, sounded apocalyptic blasting throughout the tiny room in Hollywood.
Before ripping into the cleverly titled "Keep on Rotting in the Free World," from their posthumous album Swansong, Walker brought up their friend: music journalist and founder of L.A.'s Ides of Gemini, J. Bennett to sing backup vocals for them on the song. After a few more select choices from their earlier albums, the evening's coup de grâce came as the opening twin guitar attack of "Heartwork," the title track of masterpiece album, instinctively caused every person in the room to lose their collective minds.
Before the curtains fell and amidst the chants of "CAR-CASS, CAR-CASS," Walker thanked the crowded immensely, commenting that this was the first time in the Carcass' 30-plus year career that they have played the Roxy and promised the crowd: "The next time you see us, we'll have a new album for you all," before exiting the stage.
As the crowd made their way out of the now sweltering, sweat-filled room, passing the framed photos of famous bands and artists who have come through the longstanding venue, there was a collective sense that the show they just witnessed was in its own right just as unforgettable. The history of the Sunset Strip and the Roxy may be rooted in a glam-rock past, but for a legendary band like Carcass to return to a small club again after decades conquering the metal world, history was rewritten.
Video Slider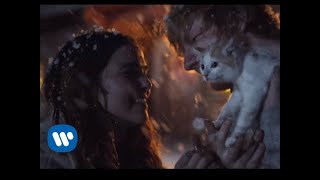 Win Tickets to See Ed Sheeran at the Rose Bowl
Ed Sheeran is back in Los Angeles, and your chance to see him perform is at the Rose Bowl in Pasadena on Saturday, Aug. 18. We are giving away complimentary tickets to the show. For a chance to enter to win, email us at info@lol-la.com with "Ed Sheeran" in the subject line and tell us why you would like to go.