Review: Catfight Makes Greater Points Than Its Title Implies
Anne Heche and Sandra Oh star in Catfight.
The title Catfight promises an entirely different film than the one the movie delivers. It suggests a campy brawl between two actresses of the type Ryan Murphy would depict in one of his less overtly prestige projects. A movie titled Catfight seems as if it should star two women who regularly go over-the-top, and should only be watched with martinis in hand. What the film delivers is somewhat different, a somewhat odd parable about female competition that takes some unexpected turns.
The film centers around two 40-something women who went to college together, Veronica (Sandra Oh) and Ashley (Anne Heche), who meet one another when Ashley helps cater a party that the wealthy trophy wife Veronica attends. After Veronica behaves dismissively toward Ashley, a struggling artist who has to take odd jobs to make ends meet, the two engage in a bare-knuckle brawl that leaves one of them in a coma for two years, and upon recovery, ready to take revenge against the other woman.
What is most interesting about Catfight is that it seems to use its fight between Veronica and Ashley to make greater points about American culture and its essential belligerence. During the two years in which the one character is comatose, America has gone to war in the Middle East, and the President has reinstated the draft for children as young as 16.
Writer-director Onur Tukel plays much of this almost for laughs, recounting what has happened in America through the use of a Jay Leno-style late-night host (Craig Bierko, exhibiting the smarminess he does so well), and in this fantasy of what might happen in America in the case of a Middle Eastern war featuring a draft, Catfight reaches a surprising conclusion. It is not necessarily believable, but this speculative history does give audiences a good deal to consider. This 'what if?' scenario is often more fascinating than the brawls between Oh and Heche.
This is not a slight on either actress or to the other primary character played by Alicia Silverstone, who portrays Heche's wife. In particular, Oh has made her career playing grounded, sensible women like Christina Yang on "Grey's Anatomy," so seeing her go as crazy as she does here is a treat. Heche has a longer reputation for crazy – albeit more in her personal life than on screen, as her alter-ego Celestia would testify – but she, too, gives it her all throughout the film. Both actresses deserve better, more high-profile projects, but it is always a pleasure when they appear.
Catfight might not be the film that the title promises, but it can hardly be faulted for false advertising. It still gives audiences an interesting future about which to speculate, while allowing its actresses a chance to give performances as physical as those of a typical action star.  
———————————————————-
Catfight
MPI Media Group/Dark Sky Films
In theaters March 3
3 Stars
Films are rated on a scale of 5 stars (must-see), 4 stars (exceptional), 3 stars (solid), 2 stars (average) and 1 star (unworthy).
Video Slider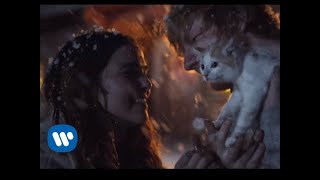 Win Tickets to See Ed Sheeran at the Rose Bowl
Ed Sheeran is back in Los Angeles, and your chance to see him perform is at the Rose Bowl in Pasadena on Saturday, Aug. 18. We are giving away complimentary tickets to the show. For a chance to enter to win, email us at info@lol-la.com with "Ed Sheeran" in the subject line and tell us why you would like to go.