Review: Cézanne and I, Another Fine Example of French Cinema
Guillaume Canet and Guillaume Gallienne in Cézanne and I (Magnolia Pictures)
French cinema has a long-standing and well-earned reputation for innovation. It is, after all, the country that gave movies the New Wave, Cahiers du Cinema, the Cannes Film Festival and filmmakers like Godard and Truffaut. It is virtually synonymous with the art film, and yet not every French movie tests the bounds of cinematic expression. Cézanne and I may be a thoroughly French film, but it is as classically-constructed as anything the Weinsteins would release for an awards season run. It is sturdy, handsomely mounted and perfectly durable. 
Cézanne and I focuses on two legends of French culture, the painter Paul Cézanne and the writer Emile Zola, who were childhood friends. The film traces the lives of these two men and the changing fortunes of them throughout their lives during the 19th century. Guillaume Canet, perhaps best known to American audiences for his supporting role in The Beach, plays Zola, while Guillaume Gallienne from Sofia Coppola's Marie Antoinette plays Cézanne. The driving force behind the film is the relationship between the unlikely pair, whose deep, lifelong bond is nonetheless tested by a relentless competition and envy, particularly as one's fortune rises as the other's falls. 
Danièle Thompson directs Cézanne and I with the focus of a writer, which befits her experience. She has been a presence in French cinema for nearly 50 years, even earning an Oscar nomination for writing over 40 years ago. Her camera-work is never flashy or ostentatious. The work more often recalls the various British costume dramas of "Masterpiece Theater" than anything particularly French. And, much like those costume dramas, the look of the film evokes the period in which the film is set without lavishing in it, almost certainly because of budget constraints.
Cézanne and I thus exists as a wholly conventional film, the type of which serves as useful and informative about historical figures without offering any groundbreaking insights into either one of them. Its pleasures are mostly basic in nature, but never insignificant: Both actors give fine, entertaining performances, and the film exudes craftsmanship. This is the work of a person with decades of filmmaking experience, and it shows. Cézanne and I may not change cinema like so many French films, but it dutifully follows those rules to good effect.
———————————————————-
Cézanne and I
Magnolia Pictures
Now in theaters
3 Stars
Films are rated on a scale of 5 stars (must-see), 4 stars (exceptional), 3 stars (solid), 2 stars (average) and 1 star (unworthy).
Video Slider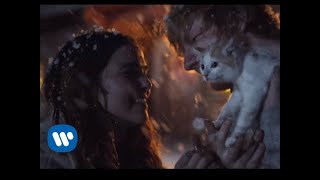 Win Tickets to See Ed Sheeran at the Rose Bowl
Ed Sheeran is back in Los Angeles, and your chance to see him perform is at the Rose Bowl in Pasadena on Saturday, Aug. 18. We are giving away complimentary tickets to the show. For a chance to enter to win, email us at info@lol-la.com with "Ed Sheeran" in the subject line and tell us why you would like to go.