Review: Chris Botti, Jewel Delight During Sunday Sunset Concerts at Hollywood Bowl
Singer / songwriter Jewel (Courtesy Photo)
The fascinating jazz/pop trumpeter and composer Chris Botti and uber-talented folk/pop/country singer-songwriter Jewel rendered a delightful show before a crowd of thousands during "Sunday Sunset Concerts" on Sunday, Aug. 13, 2017 at the Hollywood Bowl. This was my second time catching a live performance from either, but there is absolutely nothing like witnessing each artist alongside the Hollywood Bowl Orchestra and Thomas Wilkins conducting.
Looking spectacular, Jewel started things off with her cover of "Over the Rainbow," the 1939 hit sung by actress Judy Garland and featured in The Wizard of Oz. This song, which won the Academy Award for Best Original Song at that time, can be quite difficult to deliver, but Jewel not only managed to do it, but did so beautifully.
Jewel, who has sold over 30 million albums worldwide, was fighting laryngitis during her 11-song set. Still, her versatile voice did not disappoint one bit. In fact, she probably left the stage with more fans after her solo acoustic song "You Were Meant for Me" enthralled our ears. Jewel, 43, and her guitar made the perfect musical dream team.
"Who Will Save Your Soul" – her first-ever single – was saved for last, and it was a strong finale. But Jewel's rendition of "Foolish Games" and "Intuition" (both accompanied by Thomas Wilkins and the Hollywood Bowl Orchestra) were great as well. In "Foolish Games," especially, Jewel outdid herself. Her vocals, despite the throat inflammation, turned out to be melodious while singing the poetic lyrics.
Chris Botti closed out the pleasant night, alongside bassist Michael Olatuja, Leonardo Amuedo on guitar, Lee Pearson on drums, Caroline Campbell on violin, both Sy Smith and Jonathan Johnson on vocals and the one-and-only Grammy Award-nominated pianist and composer Geoffrey Keezer.
Botti, 54, needs no introduction. The Grammy-winning music stud began with "Gabriel's Oboe" (1986) and continued with "Concierto de Aranjuez" (1939). These two tracks proved why Botti has become one of the largest-selling American instrumental artist of all time. Botti and his band sounded instrumentally miraculous live – there is no topping it.
Campbell's powerful violin solo after "The Look of Love" produced tons of oohs and aahs from the audience. Campbell even stopped playing for a few seconds in order to get the mic and say that those oohs and aahs never appear when she's performing classical music. All in all, she seemed to be thrilled that the crowd enjoyed her violin talents.
Botti's encore ("My Funny Valentine") came after "Regroovable" and "Let's Stay Together." The 1937 show tune was the ideal ending for this lovely night!
Video Slider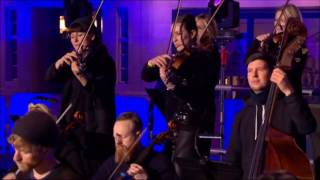 Win Tickets to See Pete Tong at Hollywood Bowl
Pete Tong is back in Los Angeles, and your chance to see him perform is at Hollywood Bowl on Thursday, Nov. 9. We are giving away complimentary tickets to the show. For a chance to enter to win, email us at info@lol-la.com with "Pete Tong" in the subject line and tell us why you would like to go.