Review: Churchill, An Unexpected Depiction of History's Greatest Briton
Brian Cox as Winston Churchill in Churchill (Cohen Media Group)
Winston Churchill, as the film Churchill reminds viewers, was chosen as the greatest Briton in history, ahead of such icons as Elizabeth I, William Shakespeare, Charles Darwin and the inexplicably selected Diana, Princess of Wales. Churchill's unassailable reputation as the leader during the second World War makes the subject of Churchill more interesting, because this is a film that focuses on what might have been the Prime Minister's greatest error during the war.
The movie centers around the several days before the Allied invasion of Normandy, a time in which Churchill was reluctant to approve the D-Day mission that turned the tide of Britain's war against the Axis powers. Churchill is not a testament to its subject's greatness, it is a look at just how disastrously wrong even our heroes just might be.
There are certain historical figures who loom so large that they cannot belong to one actor alone. Both Henry VIII and Elizabeth I are among these, and Churchill seems to be joining this group. Albert Finney and Michael Gambon portrayed the role for HBO movies, Timothy Spall played the Prime Minister in The King's Speech, while John Lithgow added more awards to his mantle for Netflix's "The Crown." Gary Oldman gets his chance later this year in Darkest Hour. Brian Cox assumes the role for Churchill, suggesting just how wide the range of actors who can play Churchill really is. The various Churchills span numerous nationalities, ages, body types and social classes. The role is so overwhelming that it assumes the actor, not the other way around.
Cox is, unsurprisingly, quite good as the Prime Minister, since the bullish stubbornness that defines Churchill's public persona is one of the Scottish actor's great strengths as a performer. Cox has always been a reliable player in films and television, and it is always a pleasure to see him in a role as substantial as this one. Miranda Richardson, herself an undervalued character actress, albeit one with a pair of Oscar nominations under her belt, joins Cox as Clementine Churchill, joining the ranks of Vanessa Redgrave, Harriet Walter, Janet McTeer and the upcoming Kristin Scott Thomas. While the role of Clementine Churchill almost always devolves into a variation of the long-suffering wife, Richardson finds enough grace notes to give Mrs. Churchill depth.
Churchill is primarily an acting exercise for Cox, Richardson and to a lesser extent "Mad Men" star John Slattery, as Dwight David Eisenhower. There is little drama to Churchill's reluctance to give Britain's assent to the D-Day invasion, since everyone knows exactly how the story turns out, and the film makes Churchill seem so stubborn and wrong-headed that despite the filmmakers' efforts, it is hard to muster much sympathy for the Prime Minister's indecision. That is perhaps the benefit of hindsight, but that is the danger to any film that deals with historical events. This is a movie that resists deifying Winston Churchill, but at the same time perhaps goes too far in the other direction by making him seem short-sighted and more importantly, timid, a trait few would ever assign him. Churchill might not be the depiction of the Prime Minister that people expect, but it adds shading to the many depictions of history's greatest Briton.
———————————————————-
Churchill
Cohen Media Group
In theaters June 2
3 Stars
Films are rated on a scale of 5 stars (must-see), 4 stars (exceptional), 3 stars (solid), 2 stars (average) and 1 star (unworthy).
Video Slider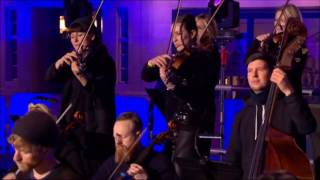 Win Tickets to See Pete Tong at Hollywood Bowl
Pete Tong is back in Los Angeles, and your chance to see him perform is at Hollywood Bowl on Thursday, Nov. 9. We are giving away complimentary tickets to the show. For a chance to enter to win, email us at info@lol-la.com with "Pete Tong" in the subject line and tell us why you would like to go.