Review: It Is a Compelling Coming-of-Age Story Set in a Horror Film
Bill Skarsgård as Pennywise in It (Warner Bros.)
When "The Losers" – Bill (Jaeden Lieberher), Ben (Jeremy Ray Taylor), Beverly (Sophia Lillis), Richie (Finn Wolfhard), Mike (Chosen Jacobs), Eddie (Jack Dylan Grazer) and Stanley (Wyatt Oleff) – band together one summer after feeling the evil presence of Pennywise the clown (Bill Skarsgård), they find themselves on a dangerous adventure that ties the child disappearances in their town to IT.
Warner Bros. latest adaptation of the seminal novel by Stephen King, has had a long road to production. Originally helmed by Cary Fukunaga ("True Detective" season one), the hard R film with a script that sort of took creative liberties with some of the subversive elements of the book had to be pulled back for a more wide-audience friendly release. Its current incarnation, which is hitting theaters this week is directed by Andy Muschietti (Mama) and is rated R.
It keeps very true to the novel in many aspects and serves as a condensed film version that retains the spirit of the world King created but does cut down on a lot about the characters mostly due to the time constraints of a motion picture. You do get the iconic opening where Georgie (Bill's younger brother) gets violently taken by Pennywise, this time in a much more nuanced performance by Bill Skarsgård. This Pennywise is childlike in his interactions, friendly and definitely more chaotic than any other incarnation we've seen before. And in the scene with Georgie, the film sets the stage for how threatening this Pennywise can be: one moment charming and kid-friendly then suddenly vicious and child-eating. Skarsgård shows he's a talent to keep an eye on. The future Joker origin film may be in his future.
The story of the film was definitely carried by the perspective of the core kids, despite reducing them a bunch because of time. King's book is giant, after all. However, focusing more on how the relationships are built between them with some creative liberties helped give you kids to connect to. You cared about them and their bonds as they faced their fears together. The only real gripe is that Beverly and Mike are reduced to problematic tropes. In the last act, one becomes a damsel and the other's character is cut down so much and so drastically that you could tell he mattered the least in the drafts as the only person of color in the film. If the rumors about this character being turned into a junkie for the adult sequel are true, it would be very unfortunate and stereotypical. Keep these characters dynamic and likable, even as adults.
Overall, It is a compelling coming-of-age story set in a horror film. The horror mostly coming from the various forms of abuse the kids went through and how It would amplify their experience of it. As far as general "scares," the film relies too heavily on jump scares and the CGI used makes it look more expensive than grounded in key moments that could have been truly scary. It would take you out of the otherwise very King atmosphere of the book, which works so well with the lush cinematography that makes you feel you are in the time of the film. The final confrontation between the Losers and Pennywise is also very different from the book but satisfying in a way that brings a bit more cohesion to this movie as a "chapter one" without giving too much more away about the threat they will face as adults in the sequel.
———————————————————-
It
Warner Bros. Pictures
In theaters Sept. 8
4 Stars
Films are rated on a scale of 5 stars (must-see), 4 stars (exceptional), 3 stars (solid), 2 stars (average) and 1 star (unworthy).
Video Slider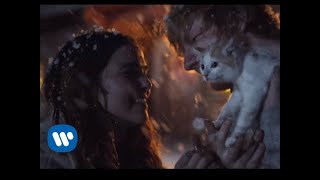 Win Tickets to See Ed Sheeran at the Rose Bowl
Ed Sheeran is back in Los Angeles, and your chance to see him perform is at the Rose Bowl in Pasadena on Saturday, Aug. 18. We are giving away complimentary tickets to the show. For a chance to enter to win, email us at info@lol-la.com with "Ed Sheeran" in the subject line and tell us why you would like to go.