Review: A Critique of the Myriad Problems of Suburbia – Suburbicon
Julianne Moore and Matt Damon in Suburbicon
From the way that Hollywood portrays suburbia, one might easily assume that living in a conventional, middle-class neighborhood – the likes of which became commonplace during the 1950s – is akin to living in a post-apocalyptic hell hole. Films such as Blue Velvet through American Beauty and beyond portray suburbia as a stifling place where murder and treachery are barely concealed beneath the sheen of well-manicured lawns and sets of identical homes. Suburbicon, the latest directorial effort of George Clooney, with a script by Clooney, his frequent writing partner Grant Heslov, and the Coen brothers, fits squarely within this tradition. For even the most seemingly conventional suburban family, living there is a nightmare. And for those who don't quite fit, as the film suggests, a suburban lifestyle is even worse.
Matt Damon stars in Suburbicon as Gardner, a seemingly typical 1950s husband and father to an injured wife (Julianne Moore) and son Nicky (Noah Jupe). When the family is robbed, Gardner's wheelchair-bound wife is killed, and her identical twin sister comes to stay with the family and replace the mother. Nicky comes to suspect, however, that the random home invasion was in fact deliberately planned as a way for Gardner to rid himself of his invalid wife and replace her with her twin sister.
As a critique of the myriad problems of suburbia, particularly as it existed in the 1950s, Suburbicon does not add much to what most filmgoers have seen many times before. Portraying suburbia, particularly in the era that defined it as stifling and regressive, is hardly innovative, but the film works best as a suspenseful thriller as seen from the eyes of Gardner's son Nicky. Jupe, who on the basis of this film will be offered every cute child role that Jacob Tremblay turns down, is quite good as a son who suspects that his father is more sinister than he appears, and does not understand the threat that he poses.
Suburbicon is at its best when it piles on the complications that Gardner faces as he attempts to cover up his role in the crime. It is here where the influence of the Coen brothers is most obvious, since the pair is so adept at portraying criminal acts that go astray, whether in a comedy such as Fargo or a film as deadly serious as their Best Picture-winning No Country for Old Men. The semi-satirical tone of Suburbicon places it more on the Fargo end of the scale, particularly when Oscar Isaac appears as a corrupt insurance adjustor, but the film feels on sounder footing when it takes its situation seriously, like in regards to Jupe's young boy.
Where Suburbicon falls flat most often is in its portrayal of the black family who lives next to Gardner and his son. The treatment of race in suburbia feels somewhat grafted onto the film and handled in a somewhat ham-fisted manner, and for, that the film will unfortunately be eviscerated by certain critics for whom an inept treatment of the subject is even worse than an actually offensive one. That the film stars Matt Damon doesn't help. Thanks to his role in The Great Wall, an ill-advised comment about diversity during "Project Greenlight" and his association with Harvey Weinstein, the knives are out for the star. This is not in spite of the fact that Damon's reputation has always been that of a decent, intelligent if imperfectly liberal icon, but because of it. In an environment such as this, a flawed ally is worse than an enemy, and for that, among a certain segment of cultural critics, Damon must pay.
The inevitable reactions to Suburbicon perhaps make the film's point about a certain hive mind and mob mentality better than the actual film itself, which is far more assured as a thriller than as a statement on middle-American society. In reality, suburbia actually isn't plagued by escalating crime based on covering up murders, but that fiction is better than the reality that Suburbicon tries to satirize. 
———————————————————-
Suburbicon
Columbia Pictures
Now in theaters
3 Stars
Films are rated on a scale of 5 stars (must-see), 4 stars (exceptional), 3 stars (solid), 2 stars (average) and 1 star (unworthy).
Video Slider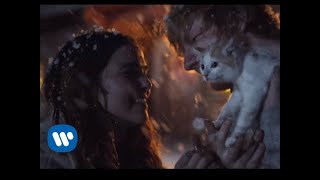 Win Tickets to See Ed Sheeran at the Rose Bowl
Ed Sheeran is back in Los Angeles, and your chance to see him perform is at the Rose Bowl in Pasadena on Saturday, Aug. 18. We are giving away complimentary tickets to the show. For a chance to enter to win, email us at info@lol-la.com with "Ed Sheeran" in the subject line and tell us why you would like to go.