Review: Cuban and Cuban-American Artists Meet at the Ford Amphitheatre for a Magical Evening
One of the lesser known, and most striking, performing arts venues in the city of Los Angeles can be found across the 101 Freeway from the iconic Hollywood Bowl (18,000 capacity). Nestled against the hills and hidden among the trees and landscaping is the beautiful John Anson Ford Amphitheatre (1,200 capacity), which like the Bowl is owned by the County of Los Angeles. Built in 1920 as the site of the religious Pilgrimage Play, it burned down in 1929 and was subsequently rebuilt in 1931 out of concrete. Earlier this year in July, it was re-opened after a 72-million dollar, four-year renovation, which expanded its eating and restaurant areas, a sound wall in the rear and a wood stage floor over the old concrete one that is more suitable for dance performances, among other amenities.
For its inaugural 2017 season, this stunning outdoor venue is partnering with other local and national presenters such as New York's Lincoln Center Festival and the Apollo Theater, as well as Los Angeles' Music Center, Skirball Cultural Center and LA Opera as part of their "Ignite @ the Ford!," initiative. Headed by the tireless, brilliant and former head of the Cultural Affairs Department of the City of Los Angeles , Cuban-American Olga Garay-English (as its interim executive director ), this "lesser known" label might be a thing of the past.
On Friday evening, Aug. 25, a very special program was presented as Cuba's iconic Sintesis group (established in 1976) shared the stage with local Afro-Cuban-American violin virtuoso Dayren Santamaria and her band, Made in Cuba.
Arriving from the city from Tampa, Fla. five years ago to settle in Los Angeles, Santamaria has played with some of the most important local salsa and jazz orchestras in the City of Angels including Andy Garcia's Cineson band and José Rizo's Afro-Cuban jazz band Mongorama, among others. Recently she has teamed up with Puerto Rican master musician/composer/pianist Oscar Hernandez, founder and director of the Spanish Harlem Orchestra to produce her first solo recording, Belleza (2015), to rave reviews.
Sporting a stunning, vibrant red satin gown, the svelte and beautiful Santamaria was joined on stage by Oscar Hernandez (piano), Joey De Leon (drums), Alfred Ortiz (congas/vocals) and Yosmel Montejo (bass). One of the great treats of seeing Santamaria perform is how she sways and moves to the rhythm of the song as she prodigiously plays her violin.
Most of the songs in the set were from her first solo recording, and they included "Dayren's Nostalgia," "Matanzas," "Lamento Latino," "Yanisel" and "Made In Cuba," which is the name of her band. Her sound is a mix of the Cuban "charanga" style fused with her classical music training, which yields some sweet and at times melancholy sounds fused with Afro-Cuban rhythms such as rumba.
After a short intermission, Cuba's Sintesis took the stage with their mix of Afro-Cuban rhythms, Santeria (Lucumi) chants, funk, rock and jazz. For those who do not know much about Santeria, this ancient African religion, which is actually monotheistic (god's name is Olofi), includes deities/orishas (santos/saints) who are the links between the divine and man. In many instances these orishas are represented not in human form, but as elements in nature. These spiritual beliefs and musical roots found their perfect context in the Ford Amphitheater's stunning natural backdrop, especially the beautifully lit trees and natural stone steps behind the stage.
Led by two of its founding members, bassist Carlos Alfonso Valdés and his wife Ele Valdés on lead vocals, the group presented a program rooted in Santeria chants that began with an ode to Babalu Aye (St. Lazarus). Their sound, which is a fusion of funk, jazz and classical music, was accented by several female dancers that highlighted the Afro-Cuban aspects of the numbers by presenting several of the Orishas and their respective dances.
Needless to say that many in the audience could not stay seated as this infectious music with its spiritual significance filled the theater with its sound and energy. It is this type of unique program, performed by internationally recognized artists that will bring the John Anson Ford Amphitheatre on par with its more famous and larger competition just across the way.
Video Slider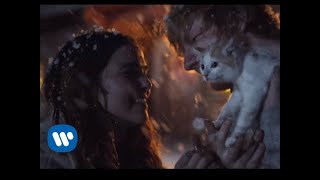 Win Tickets to See Ed Sheeran at the Rose Bowl
Ed Sheeran is back in Los Angeles, and your chance to see him perform is at the Rose Bowl in Pasadena on Saturday, Aug. 18. We are giving away complimentary tickets to the show. For a chance to enter to win, email us at info@lol-la.com with "Ed Sheeran" in the subject line and tell us why you would like to go.