Review: A Dance Party with Gente de Zona, Angélique Kidjo and the Pedrito Martinez Group at Hollywood Bowl
Gente de Zona made their Hollywood Bowl debut Wednesday night.
It was in 2014 at Hollywood Park Casino that I had the pleasure to be the first writer in Los Angeles to review Cuban reggaeton (cubaton) group Gente de Zona (Alexander Delgado and Randy Malcom Martínez). The venue was a nondescript, low-ceiling space filled with some folding chairs and a dance floor along with a temporary stage that was set up to entertain the enthusiastic, mostly Cuban-American crowd as GDZ and its backup band put on an energetic performance.
Fast forward three years, and GDZ has hit it big since that gig with four Latin Grammys and their debut at the beautiful Hollywood Bowl on Wednesday, Aug. 9. The evening also included Cuban-American percussion master Pedrito Martinez and his Latin jazz quartet along with African diva Angélique Kidjo and her outstanding band.
The balmy, clear-sky evening began with the Pedrito Martinez Group, which formed in 2005, doing a 20-minute set that included keyboardist Edgar Pantoja-Aleman (Cuba), bassist Sebastian Natal (Uruguay), percussionist Jhair Sala (Peru) along with Martinez front and center with his congas, snare drum, high hat and cymbals. 
It is a known fact that Martinez is a babalao (priest) in the Afro-Cuban religion known as Santeria and that his music is very much influenced by its ritual chants and percussion. His band's sound is a fusion of progressive jazz infused with funk, timba and other genres, and it was a treat to see Martinez not only work the congas with lighting speed, but also how he manages to beat the snare drum and cymbals with his hands while projecting his vocals at an operatic level.
Second on the bill was African-born singer extraordinaire Angélique Kidjo doing a tour de force performance made up mostly of songs made famous by the late, great Cuban singer Celia Cruz. I was fortunate so see Cruz live multiple times, including at the Hollywood Bowl in the mid to late 1990s when Ralph Mercado Music (RMM) would produce for several consecutive years a concert featuring its roster of salsa singers, including Cruz. 
Kidjo began with "Quimbara" and "Cucala," two of Cruz' most memorable hits. As her powerful voice with perfect Spanish diction soared over the Bowl, a chill passed over my body as I was transported to those unforgettable memories of "La Guarachera de Cuba," aka Celia Cruz. Backed by a group of extraordinary musicians, Kidjo added several of her own songs including "Seyin Djro" from her recording Oyaya followed by another of Cruz' hits, "Usted Abuso." Needless to say that by now, many in the audience, myself included, were dancing in the aisles and/or mouthing out the lyrics as we continued to enjoy songs like "Toro Mata" and "La Vida Es Un Carnaval," both also made famous by Cruz.  
After intermission, it was time for Gente de Zona and their fusion of reggaeton, timba and other Cuban music genres that has rocketed them into international fame since their breakthrough song "Bailando," a collaboration with Spanish singer Enrique Iglesias in 2014. Using elaborate screen projections in the background and backed by mostly young, Cuban musicians, Delgado and Malcom Martínez poured a lot of energy into the one-hour set that included most of their hits. 
Delgado has a powerful, masculine, textured baritone voice to Malcom Martínez' lighter tenor timbre, and they alternated them in songs as a sort of formula. Because many of GDZ's hits are collaborations with other artists such as Marc Anthony in "Traidora" and "La Gozadera" or Jennifer Lopez in "Ni Tu Ni Yo," the concert versions suffered a bit without the collaborators live, even with a pre-recorded track. Regardless of format, most of the songs got the audience dancing, especially their remake of 1990's novelty hit "La Macarena" now dubbed "Mas Macarena."
As a longtime fan of Latin music, especially in the salsa and Afro-Cuban styles, I have seen my share of artists in these genres over the past 40 years, and the Hollywood Bowl holds many great memories for me. On Wednesday evening, Gente de Zona, Angélique Kidjo and the Pedrito Martinez Group left another indelible impression on myself and the audience as we all enjoyed a beautiful Southern California evening at the Bowl while "bailando!"
Video Slider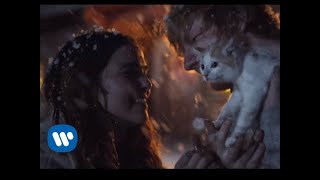 Win Tickets to See Ed Sheeran at the Rose Bowl
Ed Sheeran is back in Los Angeles, and your chance to see him perform is at the Rose Bowl in Pasadena on Saturday, Aug. 18. We are giving away complimentary tickets to the show. For a chance to enter to win, email us at info@lol-la.com with "Ed Sheeran" in the subject line and tell us why you would like to go.