Review: David Newman and LA Philharmonic Punch up the Action for Raiders of the Lost Ark
Fans enjoyed experiencing Raiders of the Lost Ark and its amazing soundtrack live at Hollywood Bowl. (Evan Solano/LOL-LA)
There is nothing quite like watching a Nazi getting punched in the face. Especially when it's on a massive screen in the Hollywood Hills, surrounded by thousands of cheering fans enjoying bottles of wine, great food and an amazing soundtrack courtesy of a Hollywood legend.
As part of the Hollywood Bowl's summer concert series, Steven Spielberg's 1981 action film Raiders of the Lost Ark was given a cinematic musical revival from the Los Angeles Philharmonic and conductor David Newman, who took the nearly sold-out audience on a trip down memory lane with one of Spielberg's most iconic characters on Friday, Aug. 4, and Saturday, Aug. 5.
The brainchild of Spielberg and Star Wars creator George Lucas, who used the film serials of the 1930s as inspiration for the swashbuckling adventures of an archeologist crossing the globe in pursuit of rare artifacts, Raiders of the Lost Ark was the first installment of the Indiana Jones series. The movie was not only a smashing box office success upon its release 36 years ago, but has come to be known as one of the greatest films of all time, having been deemed "culturally, historically or aesthetically significant" when it was included in the U.S. Library of Congress' National Film Registry in 1999.
The film is a Star Wars reunion that paired Lucas, Empire Strikes Back producer Frank Marshall, screenwriter Lawrence Kasdan and actor Harrison Ford as the heroic Indiana Jones, who must track down and steal the Ark of the Covenant from a group of Nazis who are also trying to find the biblical artifact, which Adolf Hitler wants to use to help his armies take over the world.
Even more renowned and revered than the image of a rugged Ford in a fedora is the film's score created by master composer John Williams, whose unforgettable scores first terrified audiences with the Spielberg-helmed horror movie Jaws and shot for the stars in Lucas' Star Wars saga. Whether he was running from natives in the jungles of South America or chasing down Nazis on horseback, Williams' triumphant "Raiders March" theme, a piece that would come to symbolize Jones and be used to score the other three films with Ford, was alongside every step of the way of the action-packed ride.
Conductor David Newman, who has scored more than 110 films in his 30-year career, is a highly sought-after conductor and appears with leading orchestras throughout the world. Having opened for Williams last year at the Hollywood Bowl, Newman revealed that he has had a rich history with the notable composer because of his father Alfred Newman, the nine-time Oscar-winning composer who, along with Max Steiner and Dimitri Tiomkin, was considered one of the "three godfathers of film music" during Hollywood's "golden era."
Though Jones could control any situation with the crack of a whip, Newman, in all black, commanded the 105-member philharmonic with just a simple wand. Whether he was jolting and waving his arms frantically as Jones was racing against a giant stone boulder or calmly gliding his hands to and fro during the more serene moments with Jones' love interest Marion Ravenwood, played by Karen Allen, Newman could translate the powerful and spirited score that has helped set Williams' name among the greatest composers of our time.
The audience cheered, laughed and applauded as their hero defied the odds, risked his life and delivered the classic one-liners that only an actor as gruff and charming as Ford has come to make a four-decade career out of.
The massive success of Raiders of the Lost Ark would spawn three additional films, a prequel Indiana Jones and the Temple of Doom (1984), a sequel Indiana Jones and the Last Crusade (1989) and Indiana Jones and the Kingdom of the Crystal Skull (2008), with the latest film leaving a sour taste for fans with the gross overuse of CGI and seemingly cash-grab casting of actor Shia LaBeouf. While many speculate what the future will hold for the Indiana Jones franchise (an untitled fifth film is planned for release in 2020 with both Spielberg and Ford to return), it was a real treat to revisit the film that started it all.
Not adapted from a YA book series or a spin-off of another movie franchise, Raiders of the Lost Ark and Indiana Jones are the last of the dying breed of Hollywood films that were created to entertain and mystify audiences, to transport them to a different world through original storytelling, amazing music and endless imagination. There are producers, directors, actors and studios today that can just phone-in lousy action movies based off weak imagination and storylines and wait for money to come in. But a film like Raiders was not made for money, it was made for the genuine love of filmmaking by two pioneers who helped push movie-making to a new frontier.
Thirty-six years ago Spielberg, Lucas and the team that took us to a galaxy far, far away took another risk and brought to life a character and a score that has transcended generations and still has the power to captivate audiences young and old. The 12-year-old boy who first watched the adventures of Indiana Jones was able to relive that magic again 36 years later at the Bowl, in his fedora and still cheering along to his favorite scenes, maybe even bringing along his son or daughter in the Hollywood Hills.
It may be a cliché to say a phrase like "they don't make movies like this anymore," but the reality is they don't. That is why a film like Raiders of the Lost Ark has stood the test of time. It will be forever linked to our cultural lexicon and sealed away in Congress' National Film Registry, like the fictional Ark of the Covenant in the movie, locked away to be appreciated and studied for years to come by "top men … top, men."
Video Slider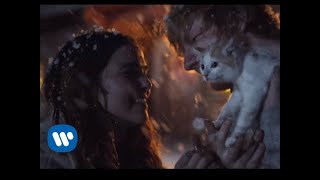 Win Tickets to See Ed Sheeran at the Rose Bowl
Ed Sheeran is back in Los Angeles, and your chance to see him perform is at the Rose Bowl in Pasadena on Saturday, Aug. 18. We are giving away complimentary tickets to the show. For a chance to enter to win, email us at info@lol-la.com with "Ed Sheeran" in the subject line and tell us why you would like to go.