Review: Downsizing's Message and Conclusions Are Solid
Matt Damon as Paul Safranek and Kristen Wiig as Audrey Safranek in Downsizing. (Paramount Pictures)
One's reaction to Downsizing will almost certainly be intertwined with one's current opinion of Matt Damon, one of the few universally liked stars in Hollywood and an avowed lifelong liberal who just can't stop saying things that make the social justice crowd apoplectic. His latest film, by Alexander Payne, is a clever, interesting one that is as scientifically-accurate as a film about shrinking humans to three percent of their height can be, but it is also, to use the language of Damon's fiercest critics, problematic. Fans of Damon may not like it as much as his critics because this movie will allow them to stoke their outrage against the Harvard-educated Oscar winner.
Damon stars as Paul Safranek, a physical therapist in Omaha who, along with his wife Audrey (Kristen Wiig) decides to take advantage of a new technology meant to help conserve resources: They will shrink themselves to only a few inches high and join a community of the small where even a solid middle-class family can live a life of immense luxury. When both Paul and Audrey decide to undertake the irreversible procedure, Audrey immediately backs out, leaving Paul to join the small community on his own. After the divorce from Audrey requires Paul to give up the mansion and luxuries that make living a small life bearable, Paul has to muddle through the same type of life he lived as a normal-sized person until he meets his hedonist neighbor Dusan (Tarantino muse Christoph Waltz) and the Vietnamese dissident Ngoc Lan Tran (Hong Chau), who introduce him to experiences he never expected to have living as a small person.
Payne has a reputation as a filmmaker who consistently uses comedic movies as a tool for grappling with greater social issues, and Downsizing, while not reaching the levels of his best films like Election and Sideways, fits very much in that vein. This is a surprisingly fatalistic film about the hopelessness of mankind, and its environmental message is both on-point and based on solid scientific conclusions. That is certainly the greatest strength of Downsizing. Its message and conclusions are solid, even if it shows wear around the margins. But this is consistent with Payne's work, and virtually inevitable for a person who works primarily in satires. If he isn't pushing the limits of acceptability, he's not doing the genre justice. There are moments in even his best films that should make one cringe, and that's how it should be. Downsizing just has more of those moments than most of Payne's movies.
And this is where Damon's current public relations difficulties come into play. A white-savior narrative with a privileged white guy at the center? Check. Moments of tone-deafness related to the emotional lives of women? Check. The film leans into so many of the complaints that people have made about Damon over the past year that it feels almost a like a confession. It's practically Matt Damon's version of "Blank Space" (by Taylor Swift).
And then there is Chau's character, who speaks in an exaggerated Asian accent and broken English that recalls Mickey Rooney in Breakfast at Tiffany's more than anything. And yet to complicate matters, Chau is the best thing about the movie, although the interplay between Waltz and Udo Kier is also quite good. They're like a dissolute Statler and Waldorf. The way that Chau speaks is played for laughs, but the actress brings a fierceness and emotional heft to the character even while Payne uses her so that Americans can laugh at how Asians speak English funny.
The messiness and complicated nature of Downsizing make the film a flawed work that still has undeniable merits. There are far better movies released this year that aren't half as interesting as what Payne and his cast do here. Those who aren't bothered by Matt Damon's nuanced approach to every situation should see it despite its flaws, but those who have made the unfailingly decent actor into the symbol of everything wrong with Hollywood should see it precisely for those flaws. The outrage they feel will give them the most pleasure of any movie this year.
———————————————————-
Downsizing
Paramount Pictures
Now in theaters
3 Stars
Films are rated on a scale of 5 stars (must-see), 4 stars (exceptional), 3 stars (solid), 2 stars (average) and 1 star (unworthy).
Video Slider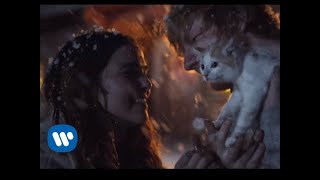 Win Tickets to See Ed Sheeran at the Rose Bowl
Ed Sheeran is back in Los Angeles, and your chance to see him perform is at the Rose Bowl in Pasadena on Saturday, Aug. 18. We are giving away complimentary tickets to the show. For a chance to enter to win, email us at info@lol-la.com with "Ed Sheeran" in the subject line and tell us why you would like to go.