Review: Eliot Sumner Drops Information at the Echo
Eliot Sumner delivered a powerhouse performance at the Echo March 8. (Evan Solano/LOL-LA)
The first time I had seen Eliot Sumner perform at the Echo in Los Angeles, there was more of a crowd at the "Taking Back Tuesday" emo night that was happening downstairs at the Echoplex than for her. That's not a knock on the 25-year-old singer-songwriter – who also happens to call Sting, the legendary frontman of the Police, her father – it was just an unfortunate situation that is all too common of an occurrence that comes with playing in a city as vast and diverse as Los Angeles.
Regardless of having to compete with one of the biggest crowd draws in Los Angeles, she put on such an amazing performance that night to the semi-packed room, that it showed despite the uphill battles that come with a young musician living behind the shadow of a famous father, Sumner was still determined to make a name for herself in music by any means necessary.
The fruits of her labor showed last night at the Echo.
Five months since her last appearance here, Sumner returned to the Echo Park-neighborhood venue to a much more packed audience who were waiting in fevered anticipation for her to take the stage, and she thanked them in kind by delivering a powerhouse performance. After years of grinding it out on the road and playing to small crowds, she had finally arrived.
Playing a majority of her new album Information, Sumner began her set with the moody and dynamic album opener "Dead Arms & Dead Legs." While her vocals draw a stark resemblance to her father's, she still has a very unique style that had the ability to draw her audience in right away with her sultry, low-alto style.
She followed up right away the energetic and über '80s-inspired track "Firewood." Its rhythmic bass and poppy tempo had everyone in the crowd swaying and singing along to every word. Just two songs into her set and Sumner had an entire flock of pseudo-hipster 20-somethings worshiping at the altar of loud-yet-catchy pop.
Sumner, who was handling bass duties as well as singing, along with her backing band was fantastic, and each member added so much to the music, creating a monstrous wall of sound within the small venue while practically bludgeoning everyone in the audience with massive driving rhythm, thunderous bass and danceable synth.
Her two most popular tracks, "I Followed You Home" and "After Dark," found themselves early in her set and delivered their memorable hooks and hauntingly powerful vocals that transcend the magnitude of their studio counterparts. Although much of the music on her album holds up on records, these songs were meant to be live, loud and in your face. It was almost as if the energy of the audience added an extra element to her already stellar songwriting.
She slowed things down with the song "Wobbler," which allowed the crowd to really appreciate the refined style of her voice and her musicianship. She rounded out her set with "Information" and "Come Friday," the latter of which is perhaps her most unabashedly Police-sounding track.
It would be hard for me to not admit that her music is reminiscent of artists like the Police (obviously), U2 and the Cult, but that in no way mattered as I fought every urge to break out dancing along to the hypnotic, rhythmic music Sumner was treating the audience to.
Sometimes it's not about being a new genre-defying act, but being able to pay tribute to the legends who laid the groundwork of amazing music. When it comes to keen pop melodies, genuine and memorable songwriting and unique vocal styles, Sumner has more than just "information" about being a talented artist; she is a living embodiment of a renewed force in the face of bland pop music.
Her music does shares similar cues from her father and draws heavily on the anthemic, spirited energy of the '80s, yet she has a unique and youthful energy that's all her own and does not hide behind her father's legacy, but stands proudly next to it.
Last night's performance and turnout are clear indicators that it won't be long before Sumner will need to start booking at the downstairs Echoplex soon enough to give another young, up-and-coming artist a run for their money on the night they get double booked with her.
Video Slider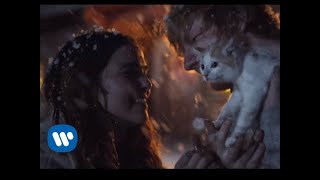 Win Tickets to See Ed Sheeran at the Rose Bowl
Ed Sheeran is back in Los Angeles, and your chance to see him perform is at the Rose Bowl in Pasadena on Saturday, Aug. 18. We are giving away complimentary tickets to the show. For a chance to enter to win, email us at info@lol-la.com with "Ed Sheeran" in the subject line and tell us why you would like to go.