Review: Empire of the Sun Reminds Angelenos That Different Is Always Better
Empire of the Sun had the Shrine dancing all night.
Music has a way of connecting with people whether it's through moving song lyrics or the energy that a performer brings on stage. But I have to admit, at times we just need something a little more extraordinary than your basic acoustic set.
Ahead of the second week of the Coachella Valley Music and Arts Festival in Indio, Calif., the Australian iconic duo Empire of the Sun made a pit stop at the Shrine Auditorium in Los Angeles giving fans a taste of a different reality.
After meeting in 2000 and collaborating on multiple projects, the iconic duo – composed of Luke Steele and Nick Littlemore – decided that it was time to change musical direction for the years ahead of them.
Since then, the Australian band's illuminating headpieces and theatrical acts have caught the attention of music-goers interested in partaking in a new kind of electronic music. In 2008, the duo put out the title track "Walking on a Dream" ahead of their debut album, which later became one of the band's most iconic songs to have been remixed and featured on radios worldwide 'til this day.
Their newest single, "High and Low," has been hitting airwaves since August 2016 and has also been featured in the EA Sports game "FIFA 17." In October 2016, their third album, Two Vines, was released.
On Wednesday night, the theatrical duo was joined by up-and-coming band Broods and transformed the Shrine Auditorium into a different kind of fantasy.
Kicking off the show, band on the rise, Broods, got the night started with an incredible set that got the Shrine prepared for what was yet to come. The New Zealand brother/sister duo of Georgia and Caleb Nott are no strangers to the big stage. Touring alongside Ellie Goulding, Haim and Sam Smith, the duo is more than prepared for their second stop at this year's Coachella.
Performing their hit single, "Heartlines," which was co-written by fellow New Zealand musician, Lorde, we have yet to see all they have to show to the world, and we'll definitely be ready.
With a 30-minute transition, the Shrine was transformed with illuminating lights, bizarre graphics and dancers wearing headpieces. The duo entered the stage opening with a song from their newest album, "Friends," and was welcomed with a roar of claps and hollering from fans ready to be entertained.
The band's set consisted mostly of songs from their recent album, Two Vines, but they also shared some songs from their older albums, including "We Are the People" and "Walking on a Dream." But for me, the highlight of their set was their performance of "High and Low." It got me jumping, and I eventually lost my glasses for the rest of the night. The energy that was brought into their performance was entertaining and not as rowdy as your typical EDM event.
But sadly, all concerts have to come to an end at some point. To top off the night, they closed out with an encore performance of "Alive" that got the whole auditorium up on their feet one last time. Leaving the Shrine had me wanting to see them again out in the desert.
It's no surprise that music-goers are attracted to the energy of the iconic and bizarre duo. And for years, Empire of the Sun has reminded us that different is always better.
Video Slider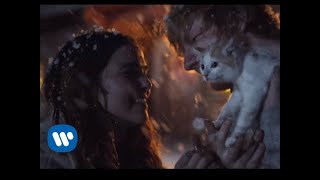 Win Tickets to See Ed Sheeran at the Rose Bowl
Ed Sheeran is back in Los Angeles, and your chance to see him perform is at the Rose Bowl in Pasadena on Saturday, Aug. 18. We are giving away complimentary tickets to the show. For a chance to enter to win, email us at info@lol-la.com with "Ed Sheeran" in the subject line and tell us why you would like to go.