Review: Entertaining, Comical Night with Long Beach Ballet's "The Nutcracker"
Long Beach Ballet's "The Nutcracker" runs through December 22, 2013 at the Long Beach Terrace Theater.
Catching a ballet show during the holiday season is nothing short of entertaining. In "The Nutcracker," Long Beach Ballet's annual holiday classic, we witness just that at the Long Beach Terrace Theater.
"The Nutcracker," which has 3 shows remaining (December 21 at 2 p.m. and 7:30 p.m. and Dec. 22 at 2 p.m.), carries a 2-hour long phenomenal performance. And one that truly can't be missed.
Believe it or not, the Long Beach Ballet is this art's only company in Southern California that has a full symphony orchestra and is only one of two ballet companies in the country to use two harps for their production of "The Nutcracker." You're maybe asking yourself, "why?" The answer is quite simple: they do so to ensure the performance sounds exactly as Pyotr Ilyich Tchaikovsky's score. Which, if you ask me, is quite impossible but they did so quite well. It's impressive.
I've seen my share of "The Nutcraker" pieces throughout the years. And I must admit that this particular show caught my attention from the start. It's comical, indeed, and that happens from beginning to end. That's a plus!
The wardrobe is amazingly colorful; it's catchy, and Australian artist Adrian Clark deserves a lot of credit for that. And given that the cast is over 200, I
The flying sleigh and on-stage pyrotechnics are surprisingly well-done. The enchanting scenery, as put by many critics, was created by former Disney designers Elliot Hessayon and Scott Schaffer, and its fantastic.
The Long Beach Ballet's Artistic Director, David Wilcox, went all out for this production of the classical tale. "The Nutcracker" is one of the most famous ballet's the world, and one of the best stories ever. The Long Beach Ballet's display of it is marvelous, and perfect for the kids and family and anyone else. Every kid in the audience loved it!
The Long Beach Terrace Theater is the ideal venue for this performance, stage props are superb, and the surprises are rather wonderful.
Video Slider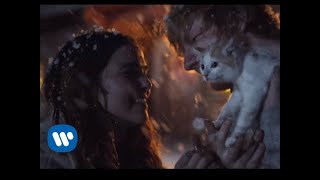 Win Tickets to See Ed Sheeran at the Rose Bowl
Ed Sheeran is back in Los Angeles, and your chance to see him perform is at the Rose Bowl in Pasadena on Saturday, Aug. 18. We are giving away complimentary tickets to the show. For a chance to enter to win, email us at info@lol-la.com with "Ed Sheeran" in the subject line and tell us why you would like to go.