Review: Flamenco Superstar Diego El Cigala Pays Homage to Salsa at Cal State LA
Diego El Cigala's performance at Luckman Fine Arts Complex was "Unforgettable." (Sony Music Latin)
Back in late 1960s New York City, a group of master Latin American musicians under the direction of Dominican musician, arranger, composer, producer and bandleader Johnny Pacheco got together to form the iconic musical ensemble the Fania All-Stars. Under the label Fania Records, which was founded by Italian-American lawyer Jerry Masucci, this group gave birth to the worldwide, musical phenomenon known as "salsa music."
This tidal wave of creativity in music has continued to influence many artists from around the world, including renowned flamenco singer Diego El Cigala, who brought samples of his latest recording, Indestructible, which contains many Fania All-Stars hits to the Luckman Fine Arts Complex at Cal State LA on Friday, Nov. 18. Born Diego Ramón Jiménez Salazar in Madrid, El Cigala has recorded eight CDs, won three Latin Grammys, including Best Tropical Album in 2004 for Lagrimas Negras, which he recorded with the late, great Cuban pianist, composer and bandleader Bebo Valdes, as well as being nominated a total of five times for these prestigious Latin music awards.
Seated at front center stage, sporting a very hip, tight grey/blue suit and his trademark long curly hair and goatee, maestro El Cigala was backed by an outstanding 10-piece orchestra which included: Carlos Martínez, trumpet; Anibal Martinez, trumpet; Bernardo Aguirre, trombone; Richard Stella, trombone; Yelsy Heredia, bass; David Marcano, timbales; Daniel Diaz, congas; Diego Giraldo, backing salsa vocals; Giovanni Betancourt, backing salsa vocals; and his longtime collaborator on piano, Jaime Calabuch "Jumitus."
The evening began with the danceable "Moreno Soy," which is the first track of the new album and was originally recorded by the Fania All-Stars' Luigi Texidor. This was followed by the beautiful bolero titled "Veinte Años" by the late Cuban, female composer María Teresa Vera, which appears on the Lagrimas Negras recording. It's in these slower, more heartfelt pieces that El Cigala really shines with his rich, expressive voice rather than the faster, slick salsa numbers.
Because most flamenco singers sit through their performances and El Cigala was no exception, the dancing aspect for most of the numbers was given over to backup singers Betancourt and Giraldo, who were more than up to the task. Another highlight of the evening was watching and listening to the talented musicians on stage, especially the young and boyish looking duo of Marcano on timbales and Diaz on congas, who gave admirable performances despite their young age.
Most of the evening's program showcased songs from the Indestructible and Lagrimas Negras recordings. From the Fania All-Stars catalog came "Juanito Alimaña," "Hacha y Machete" and "Periodico de Ayer" by the late, great singer Héctor Lavoe; "El Raton" made famous by the late, Cheo Feliciano and the title track "Indestructible" by the late, percussionist and bandleader Ray Barretto, all Puerto Rican master musicians.
Ultimately, in the end, it was the songs from Lagrimas Negras that were a better fit vocally and stylistically for maestro El Cigala. From "Corazón Loco" and "Vete de Mí" to the title track, these songs tugged at your heart. In these, you heard the pain, love and even the flaws in his voice all wrapped up in beautiful music and lyrics, even if they would evolve into a more danceable beat.
After a raucous standing ovation, the band and maestro El Cigala returned to the stage to delight the audience with the iconic bolero "Dos Gardenias" which then segued into "Ritmo, Tambor y Flores" made famous by the late, great Cuban singer Celia Cruz, another of the singers in the Fania All-Stars roster. To use two song titles recorded by Diego El Cigala, the evening was full of music and talent that are "Indestructible" and "Inolvidable (Unforgettable)"!
Video Slider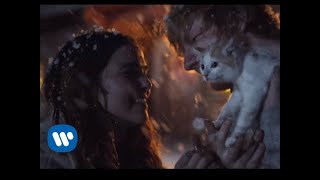 Win Tickets to See Ed Sheeran at the Rose Bowl
Ed Sheeran is back in Los Angeles, and your chance to see him perform is at the Rose Bowl in Pasadena on Saturday, Aug. 18. We are giving away complimentary tickets to the show. For a chance to enter to win, email us at info@lol-la.com with "Ed Sheeran" in the subject line and tell us why you would like to go.