Review: François Ozon's Strongest Work To Date, Blistering Comedy The New Girlfriend
Anaïs Demoustier and Romain Duris in The New Girlfriend (Cohen Media Group)
"A hapless woman is shocked to find out that her late friend's husband is a transvestite and hid his secret from his wife for years." In the hands of a Hollywood hack, the above log line could make for a vaguely decent rom-com trifle, promising wacky mishaps, a few lessons learned and, most likely, a burgeoning romance between our main gal and the nascent cross-dresser. Luckily for us, this intriguing premise fell into the capable hands of experimental French auteur François Ozon (8 Women, Swimming Pool) with his latest unique passion play, The New Girlfriend.
In adapting a relatively straight-laced short story by British author Ruth Rendell, Ozon's quirky New-Wave stylings elevate a sitcom-esque setup to boldly bizarre heights. We open with a long flashback sequence to find that dull Claire (Anaïs Demoustier) has gone through life attached at the hip to her buoyant BFF Laura (Isild Le Besco) until the latter contracts a terminal illness and tragically dies young. Whereas Laura left behind her charming husband David (Romain Duris) and an adorable young daughter, Claire plods through life mostly alone, stuck in a dull, unremarkable marriage to distracted nebbish Gilles (Raphaël Personnaz). All that changes when, one day, Claire returns to Laura's home only to walk in on David feeding his baby while dressed head to toe in women's clothing.
From there, things take an oddball left turn, as Claire takes an impressively progressive stance on the whole matter. Rather than shame David for living a double life, she accepts him for who he is and allows him to fully step out as a woman for the first time by covering for him in social situations—giving him the pseudonym "Wendy" and pretending that the full-blooded man is, in fact, one of her long-time girlfriends. Before long, however, their put-on friendship morphs into a real one; "Wendy" fills the platonic void left in Claire's life after Laura's death, while Laura gives David full entree into the world of femininity.
Of course, being an Ozon movie, this innocuous pith only lasts so long before tailspinning into a complex psychosexual mind-warp painted in jarring shades of grey. Gilles begins to get excised from his wife's life as she draws ever-closer to David/Wendy, while Laura is plagued with increasingly outré sexual fantasies involving her dead friend. Played with an inscrutable poker face, the subtle and nuanced drama of Girlfriend never quite lets on where it's heading or what it's trying to say (if anything), expecting its viewers to simply give in and allow Ozon to guide them through the wormhole of existential absurdism.
Though it was released internationally over a year ago, the recent influx of trans individuals into the American zeitgeist makes Girlfriend one of the year's timeliest and most prescient releases. Indeed, Ozon has developed a reputation for being one of the rare male directors with a keen eye for female characters, and in that department, this latest work may be his strongest achievement to date. Fitful in regards to genre but utterly steadfast in its longingly morbid tone, The New Girlfriend exceeds expectations and delivers a blistering comedy as cutting as it is compassionate.
———————————————————-



The New Girlfriend


Cohen Media Group


In theaters Sept. 18
4 Stars
Films are rated on a scale of 5 stars (must-see), 4 stars (exceptional), 3 stars (solid), 2 stars (average) and 1 star (unworthy).
Video Slider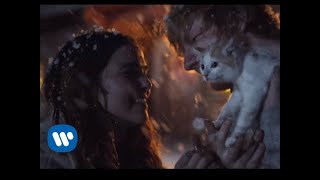 Win Tickets to See Ed Sheeran at the Rose Bowl
Ed Sheeran is back in Los Angeles, and your chance to see him perform is at the Rose Bowl in Pasadena on Saturday, Aug. 18. We are giving away complimentary tickets to the show. For a chance to enter to win, email us at info@lol-la.com with "Ed Sheeran" in the subject line and tell us why you would like to go.