Review: Funny and Charming, Thor: Ragnarok
Chris Hemsworth in Thor: Ragnarok (Marvel Studios)
It is tempting to believe that one day on the set of Thor: Ragnarok, one of the cast members, perhaps a new addition to the Marvel Universe like Cate Blanchett or Jeff Goldblum, remarked that the actors could throw a party on set for two months, have the filmmakers capture it on camera, and the movie would still make a billion dollars. That's what the third installment of the Thor franchise, one of the lesser loved of the Marvel tentpoles, feels like, and that is why Thor: Ragnarok is the best installment of the intergalactic Norse god tale, and one of the best of the Marvel movies thus far. Instead of bogging down the movie with a search for some mystical object that could destroy the universe or whatever MacGuffin the Marvel team uses as a plot, this is two hours of actors cracking jokes and treating the proceedings with all the gravity of a Martin and Lewis comedy.
Chris Hemsworth once again returns to the role of the amazingly jacked, square-jawed God of Thunder from Norse mythology. When he returns to his home of Asgard, he finds that his brother Loki (Tom Hiddleston), who died in a previous Marvel movie, as if that matters in these sorts of things, has sent their ailing father Odin (Anthony Hopkins) to a retirement home on Earth. Upon Odin's death, his child whom he banished for her treachery, Hela (Cate Blanchett), returns to take control of Asgard, forcing both Thor and Loki to escape. Thor becomes the prisoner of an alcoholic Valkyrie (which will be someone's band name by the end of opening weekend, if it isn't already) played by Tessa Thompson of Creed, on the planet ruled by the Grandmaster (Jeff Goldblum) to earn his freedom and return home to defeat Hela.
None of that previous paragraph really matters. Not one bit. It is merely moving the chess pieces around so that the various characters can crack jokes at one another with a playfulness that makes even Guardians of the Galaxy feel as dour as Zach Snyder's Batman. There is not even a pretense that any of this truly matters, and that's essential to the immense charm of Thor: Ragnarok. Despite the obligatory action sequences, this is a film that feels quick, dirty and even slightly improvisational. It is as if the disappointing reaction to Thor: The Dark World caused the Marvel executives to throw up their hands and say, "Fine, do whatever you want."
And it is generally the rule that the most charming Marvel movies are the ones that feel less bogged-down by the demands of living up to franchise demands. Not having the pressure to be an Iron Man or Captain America movie, let alone the epics that are The Avengers, makes for lighter, more charming and more creative films. Doctor Strange can be a psychedelic head trip, for example, and the first Guardians of the Galaxy can have the focus shift to a tree and a raccoon alongside the heroic Chris Pratt. Thor: Ragnarok feels much like that, but even more breezy and more willing to take chances.
It helps that director Taika Waititi, who should be the first person Marvel calls for whatever their next project is, seems so attuned to just what makes the character appealing. Thor has so often seemed like the most self-serious of the major Marvel heroes, but this film has much more fun with the character's vanity, competitiveness and frat-boy lunkheaded charm, and pairing him with Hiddleston for mostly comic purposes this time makes for great contrast. Loki has always been one of the few really successful Marvel villains, and the character works just as well as essentially a frenemy.
More than anything, Thor: Ragnarok is a funny movie, containing more laughs than perhaps any film thus far this year. This is the best portrayal of the comic-book hero thus far, now that Marvel has realized the star athlete is really better as the class clown. 
———————————————————-
Thor: Ragnarok
Walt Disney Motion Pictures
Now in theaters
4 Stars
Films are rated on a scale of 5 stars (must-see), 4 stars (exceptional), 3 stars (solid), 2 stars (average) and 1 star (unworthy).
Video Slider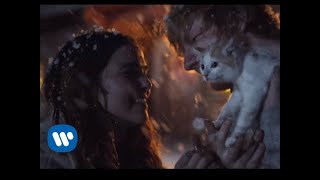 Win Tickets to See Ed Sheeran at the Rose Bowl
Ed Sheeran is back in Los Angeles, and your chance to see him perform is at the Rose Bowl in Pasadena on Saturday, Aug. 18. We are giving away complimentary tickets to the show. For a chance to enter to win, email us at info@lol-la.com with "Ed Sheeran" in the subject line and tell us why you would like to go.