Review: Generally a Lot of Fun, The Greatest Showman
Hugh Jackman and Zac Efron in The Greatest Showman (Niko Tavernise)
The Greatest Showman is exactly the type of movie that P.T. Barnum would want to be made about his life: an over-the-top spectacle with a relentless drive to entertain that just happens to be almost completely untrue. Even a quick perusal of Barnum's biography reveals that only a few events of the movie followed the historical record, giving the film an accuracy level somewhat lower than Shakespeare in Love and barely higher than Bill & Ted's Excellent Adventure. And that's what both the historical Barnum and his fictional counterpart would have wanted.
Hugh Jackman stars in the film as the founder of the famous circus, the son of a poor tailor with great ideas but none of the cash to implement them and join the high society to which his wife (Michelle Williams) was born. Barnum cons a bank into loaning him enough money to open a museum of curiosities that evolves into a performance house showcasing attractions like the bearded lady, dog boy and the world's fattest man (who, even by the exaggerated weight Barnum claims, would barely be the fattest man in many modern Walmarts).
In order to gain the respect of New York's high society, Barnum partners with Phillip Carlyle (Zac Efron), a playwright from an elite family who wants to entertain instead of producing dour but respectable plays. Carlyle falls for a biracial trapeze artist (Zendaya), while Barnum struggles with the enmity of a public that dislikes the freakish underclass he puts proudly on display.
And, as must be noted, The Greatest Showman is a musical, with songs by Benj Pasek and Justin Paul, the team that brought home Oscars for La La Land and Tonys for Dear Evan Hansen earlier this year. But where both of those works were, at least within the genre, models of emotional subtlety, The Greatest Showman is a big, booming production that relies on huge anthems and outsized emotions. When "American Idol" returns next year, it should surprise no one when aspiring Jennifer Hudsons choose songs from these as showstoppers. Keala Settle, who plays the bearded lady Lettie Lutz, gets many of these and sings the hell out of them so well that the pasted-on facial hair is only a tertiary consideration.
It would be easy to quibble about so much in The Greatest Showman, from its sometimes ludicrous plot developments and characters who are thin reproductions of stock characters (Williams, with four Oscar nominations under her belt as recently as last year, plays the long-suffering wife character that you'd expect from an actress on the decline, not one at a career peak.). But subjecting this movie to too much criticism feels like kicking a puppy: Why do that to something that is just begging you to love it?
So, on that level, The Greatest Showman is generally a lot of fun, especially when the talking stops and the songs begin. Jackman earned a great deal of acclaim for"Les Miserables, but that phony piece of Broadway trash hasn't a moment of delight. Here, Jackman gets a far better showcase for his talent and charm. He was the best Oscar host in ages because of his 'let's put on a show' attitude, and this movie finally exploits it to full effect.
The film finally allows Efron the charm that made him a musical star before he abandoned the "High School Musical" and Hairspray roles that made him famous to be the hard-bodied jerk in too many bad comedies. Even though Efron will never be mistaken for Daniel Day-Lewis, he does have talent and can be relied on to do more than just take off his shirt, and the fact that he doesn't here feels like progress.
One might wish for a musical on the level of Chicago or Moulin Rouge to give Jackman and Efron a better platform to show what they can do, but a confection like this will have to do for now. Audiences might not be getting greatness with The Greatest Showman, but if they suspend their disbelief and choose to accept the deception, they'll still have a good time – just like P.T. Barnum would have wanted.
———————————————————-
The Greatest Showman
Twentieth Century Fox
Now in theaters
3 Stars
Films are rated on a scale of 5 stars (must-see), 4 stars (exceptional), 3 stars (solid), 2 stars (average) and 1 star (unworthy).
Video Slider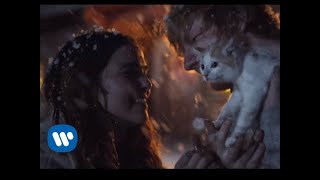 Win Tickets to See Ed Sheeran at the Rose Bowl
Ed Sheeran is back in Los Angeles, and your chance to see him perform is at the Rose Bowl in Pasadena on Saturday, Aug. 18. We are giving away complimentary tickets to the show. For a chance to enter to win, email us at info@lol-la.com with "Ed Sheeran" in the subject line and tell us why you would like to go.