Review: Gloria Trevi, Alejandra Guzmán Kick Off "Versus World Tour" in Style at STAPLES Center
Alejandra Guzmán and Gloria Trevi perform "Más Buena" Sunday, June 4, 2017 at STAPLES Center. (Marvin Vasquez / LOL-LA)
Two Latin music divas, two shows, two nights, two sellouts – this was how pop-rock songstress Gloria Trevi and rock en español singer/songwriter Alejandra Guzmán began their "Versus World Tour" this past weekend at STAPLES Center in downtown Los Angeles.
Trevi and Guzmán commenced night two (Sunday, June 4, 2017) together with their latest single, "Más Buena," off of the recently released Versus (the extension of their union from the stage to the recording studio). To the surprise of no one, the thousands present clapped, cheered and screamed their lungs out as both 49-year-old Mexican beauties hit the stage.
At first, it was rather uncertain what the singers planned on doing musically for the concert, but we soon learned their musical intent was to take turns performing each of their hits. And after a catchy "Hey Guera" by Guzmán and reminiscent "La Papa Sin Cátsup" by Trevi, Guzmán followed for the next seven songs.
"Mírala, Míralo" and "Mala Hierba" immediately arrived, and the audience was left with jaws dropped with both renditions – so much energy and sultriness on stage. Guzmán then delivered an additional five tunes, before leaving the scene for Trevi's "Gloria."
Trevi's "Gloria" filled up the venue with uptempo pop, disco beats, and it really was musically satisfying witnessing live because the fans not only sang along to the lyrics, but the majority attempted to imitate Trevi's on-stage dance routine – something that is both fun and uplifting to view, as no single soul gives a care of what their surrounding attendees see, or more or less, say. These four minutes, give or take a few seconds, served as my favorite moment of the entire show – seeing the entire singing and dancing with lots of joy!
The 14-piece orchestra, highlighted by the four back-up singers, two trumpets and saxophone, worked marvelously for the sounds of both Trevi and Guzmán.
For Guzmán, "Hacer El Amor Con Otro" was by far her most recognizable track. And with this live band, the 1991 hit off of Flor de Papel provided somewhat of an affable environment, given that its lyrics are romantic in nature and its sounds are the likes of an easygoing rock tune.
For Trevi, "Pelo Suelto" (Tu Ángel de la Guarda, 1991) was that song which elevated her musical career to other levels in the early 1990s. Listening to "Pelo Suelto" with this live music group proved to be a delight. Not only did it sound almost identical to the original recording, but it got all of us rowdy – in a good way!
Near the end, both Latin music icons shared the stage in what was dubbed a "Ballad Battle," where each performer supplied a ballad from their musical catalogue. In this segment, Guzmán's "Yo Te Esperaba" reigned supreme. For one, the public vigorously identified with it. Secondly, the melody was simply beautiful lyrically. Thirdly and perhaps most prominent, Trevi seemed to be impacted much by it. As Guzmán sang, Trevi directly gazed at her in tears. At the end of "Yo Te Esperaba" Trevi and Guzmán shared a passionate hug – signaling their strong relationship and unity for this show, and the tour as a whole.
The three-song encore came with a surprise. Prior to the finale with "Cuando Un Hombre Te Enamora", Guzmán voiced "Todos Me Miran" – by Trevi – and Trevi gave us Guzmán's "Eternamente Bella." Both pieces enthralled the onlookers and kept them asking for more.
To date, the "Versus World Tour" show with Trevi and Guzmán is one of the best Latin music shows that's ever set foot in L.A. Expect more sellouts in the coming dates: June 9 at Valley View Casino Center in San Diego, June 10 at SAP Center in San Jose and June 11 at Save Mart Center in Fresno,
Video Slider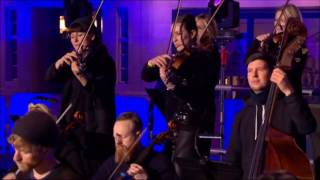 Win Tickets to See Pete Tong at Hollywood Bowl
Pete Tong is back in Los Angeles, and your chance to see him perform is at Hollywood Bowl on Thursday, Nov. 9. We are giving away complimentary tickets to the show. For a chance to enter to win, email us at info@lol-la.com with "Pete Tong" in the subject line and tell us why you would like to go.