Review: Gods of Egypt – Enjoyable, Even at Its Most Silly
Brenton Thwaites and Nikolaj Coster-Waldau in Gods of Egypt (Lionsgate)
There are precious few moments in Gods of Egypt that are not preposterous, but that is exactly as the film should be. Expecting a film that places the various ancient deities on a flat earth demonstrates that this is not a movie to be taken all that seriously, which is not a criticism of the film.
The movie – directed by Alex Proyas, best known for the cult 1990s classics The Crow and Dark City – is a cheerful adventure that delights in just how absurd it really is, which helps smooth over the occasional hokeyness in order to charm the audience. It is easy to imagine someone like Alejandro González Iñárritu or Ridley Scott taking on this material. It might be a better film, but it certainly wouldn't be as much fun.
Gods of Egypt stars emerging Australian actor Brenton Thwaites as Bek, a mortal commoner living in ancient Egypt who becomes entangled in the battle between Nikolaj Coster-Waldau (best known as Jaime Lannister of "Game of Thrones) and Gerard Butler (best known as the actor who takes every role Russell Crowe has rejected since 2005), who play the Egyptian deities Horus and Set, respectively. Academy Award winner Geoffrey Rush also has a featured role as the sun god Ra, continuing the tradition of aging non-American Oscar winners slumming in swords-and-sandals movies for high paychecks that Laurence Olivier began nearly 40 years ago in Clash of the Titans.
Thwaites and Rush are Australian, Coster-Waldau is Danish, and Butler has the thickest Scottish brogue heard on screen since Sean Connery. Considering the complaints about Hollywood whitewashing, it must be noted that none of these actors are even remotely plausible as Egyptian. They are, however, completely believable as British, which is what Hollywood has always required of films such as these. Hollywood long ago declared that ancient mythology is the terrain of British actors and those like Coster-Waldau who project that sensibility, and as such the leads serve that tradition well.
This type of whitewashing should not be acceptable in 2016, but Gods of Egypt is essentially a 1950s B-movie made in the present way, and viewed as such its casting seems a bit more understandable. Considering the movie asks its audience to accept that Coster-Waldau and Butler might be related and that the earth is flat, asking viewers to accept the cast as Egyptian hardly seems like a huge demand.
It is the B-movie sensibility of Gods of Egypt that makes the film enjoyable, even at its most silly. This is the type of film where the only thing that keeps the actors from chewing all of the scenery is that it would require them to eat carbs, which most of the cast has clearly not done in years. Thwaites, in particular, has tremendous fun as the mere mortal of the cast. He must balance between being the dashing action hero and the damsel in distress at the mercy of the powerful god whom he assists. Thwaites is funny but not laughable, and even if he is destined for better movies to showcase his talents, the young Australian makes the most of the material.
Gods of Egypt steals liberally from other, better movies, but this is a film meant for the cheap thrills that it does achieve rather than one that could be lauded for its originality. Proyas lifts material from both Aladdin and Indiana Jones in some of the early scenes, and it works, while Butler has so clearly studied up on Russell Crowe's performance in Gladiator that one can see the phrase 'Are you not entertained?' going through his mind every time he stretches out his arms while preparing for battle. This is a movie that need not be original or even plausible, so long as it keeps asking that very question. Audiences will neither be challenged nor informed by Gods of Egypt, but they will be entertained.  
———————————————————-
Gods of Egypt
Lionsgate
Now in theaters
3 Stars
Films are rated on a scale of 5 stars (must-see), 4 stars (exceptional), 3 stars (solid), 2 stars (average) and 1 star (unworthy).
Video Slider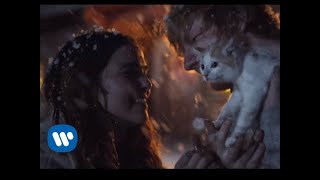 Win Tickets to See Ed Sheeran at the Rose Bowl
Ed Sheeran is back in Los Angeles, and your chance to see him perform is at the Rose Bowl in Pasadena on Saturday, Aug. 18. We are giving away complimentary tickets to the show. For a chance to enter to win, email us at info@lol-la.com with "Ed Sheeran" in the subject line and tell us why you would like to go.