Review: The Growlers Bring Their Own Brand of Holiday Cheer to Snow Ball 2017
Brooks Nielsen of the Growlers led sing-alongs with the Wiltern crowd on the first night of Snow Ball.
Adorned like a dreamy high school winter dance, the Wiltern hosted the Growlers' second-annual Snow Ball Friday night, in an evening that harkened back to days of high school glory and nostalgia. 
In what was the first of two sold-out shows at the iconic theater in Koreatown, the Southern California psychedelic-surf outfit showed why they're among Los Angeles' favorite native sons. Lead singer Brooks Nielsen donned a stylish rhinestone-encrusted suit with the words "LUCKY F**K" emblazoned in the back during a tight 90-minute set that gave fans everything they wanted. 
Since 2013, the Growlers have gone on a prolific run that has earned them a cult following. Their idiosyncratic sound has brought along many imitators (as well as Beach Goth, which started as a term popularized by the band to characterize their sound and style that turned into the name of their very own music festival) and cemented them as one of the quintessential acts in the L.A. music scene today. Friday night provided every indication that the Growlers hold a special place in the heart of the L.A. music scene, as fans waited a few hours in a line that stretched around an entire city block (from the Wilshire side of the venue's entrance to the south end of Ralph's). 
The lone (minor) setback of the night was that there was no opening act, and the Growlers didn't come on until 9:45; there is no shortage of local bands currently in town who would've made for a great addition to the evening. But, alas, listening to the Growlers' repertoire on a chilly L.A. night to kick off the holiday season was an ideal way to spend a Friday night. 
When they veered toward their romantic anthems, like "Someday" and "One Million Lovers," many among the Wiltern crowd who came with a significant other slow-danced the night away not unlike a couple of high-school sweethearts. When Nielsen sang their other hits, such as "Going Gets Tough," "Black Memories" and "I'll Be Around," the crowd joined him word-for-word, which made for the best moments of the night. 
Video Slider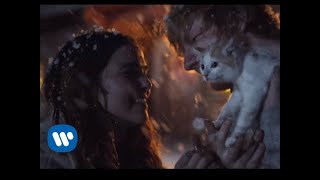 Win Tickets to See Ed Sheeran at the Rose Bowl
Ed Sheeran is back in Los Angeles, and your chance to see him perform is at the Rose Bowl in Pasadena on Saturday, Aug. 18. We are giving away complimentary tickets to the show. For a chance to enter to win, email us at info@lol-la.com with "Ed Sheeran" in the subject line and tell us why you would like to go.