Review: The Growlers Six Is Unleashed in San Pedro
The Growlers debuted the Growlers Six festival in San Pedro Oct. 28 and 29. (Taylor Wong/LOL-LA)
Halloween season in Los Angeles is a big time for music festivals. For the past five years, the Growlers have been throwing a music festival in Orange County by the name of Beach Goth. After a few legal differences, the festival made its move to the docks of San Pedro with a name change to the Growlers Six.
We made our way to check out this newly rebranded festival last Saturday and Sunday. Being in the port of San Pedro, there was not much space for parking. The lot for festival-goers was about a mile from the actual venue. As soon as you walked up, there were many security lines for speedy entry. This really didn't matter since the security was highly untrained and extremely lazy. I got in without a pat-down or camera-bag check. This relaxed security led to many issues during the festival.
Once you walked in, you were greeted with the smell of festival foods as well as a few festival rides. Along with these attractions was the Wall of Death, a motorcycle stunt show where the riders did tricks while riding around a circular wall. This was by far one of our favorite attractions aside from the music.
Food options were slim at Growlers Six. There were two food trucks and a couple fair-food tents. Although the options were slim, they were very delicious. I treated myself to pizza the first day and sliders the second day. The only thing stopping me from eating more was the fact that everything at this festival was extremely overpriced. One slice of pizza ran me $8. Along with overpriced food came overpriced drinks. The main drink of the festival was a list of margaritas they had for $14. If you didn't want a margarita, you could grab anything else for the exact same price.
Aside from a few kinks that can definitely be worked out in the future, the festival had an incredible lineup. On day one, we walked in to catch the king of San Pedro, Mike Watt of the Minutemen. The main acts we were excited to see on day one were Modest Mouse and the Yeah Yeah Yeahs. These two artists haven't played a show in quite a while, and after seeing them, it was obvious where the festival budget went to since it didn't go to the food and drinks. The Yeah Yeah Yeahs haven't played a show in four years and only have four shows scheduled.
Day two, we did it all over again. The first band we decided to see was a band by the name of the Regrettes. The band is made up of 16-year-olds, and they have been getting a lot of well-deserved hype. About two songs into their set, however, a girl on what seemed to be many drugs kicked her way through the photo pit till she got to the stage. The girl then got to Lydia, the singer of the Regrettes, and assaulted her on stage. Unfortunately this cut their set short.
The second day of the festival was filled with a lot of older acts such as the B-52s, Geto Boys, FEAR and Bad Brains. Because of this, attendance was a bit slim on day two since the crowd tended to be on the younger side.
Another fun thing about Growlers Six was that the Growlers headlined both days. So if you didn't get the chance to see their amazing set, you had a second chance to redeem yourself. They are known to wear costumes both days. Day two seemed to be a take on killer clowns from outer space.
Overall, Growlers Six was a blast and has a lot of potential. We look forward to seeing what they have in store for us next year.
Video Slider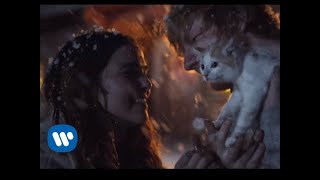 Win Tickets to See Ed Sheeran at the Rose Bowl
Ed Sheeran is back in Los Angeles, and your chance to see him perform is at the Rose Bowl in Pasadena on Saturday, Aug. 18. We are giving away complimentary tickets to the show. For a chance to enter to win, email us at info@lol-la.com with "Ed Sheeran" in the subject line and tell us why you would like to go.