Review: Guardians of the Galaxy Vol. 2 Satisfies
Karen Gillan, Zoe Saldana, Rocket (voiced by Bradley Cooper) and Dave Bautista in Guardians of the Galaxy Vol. 2
It may be time to think of the several blockbusters that Marvel releases every year as something other than a traditional feature film and more like the big-screen equivalent of a serialized television show like "Game of Thrones" or "Breaking Bad." A movie like Guardians of the Galaxy Vol. 2 certainly has its stand-alone qualities, but at the same time it draws on so much of the other movies in the Marvel Cinematic Universe, and not simply because it is a sequel, while simultaneously setting up the next installment of whatever Avengers or Iron Man or Captain America film that comes next. It used to be that in order to enjoy a sequel, one had to see the previous installments, and sometimes not even those. With the Marvel Universe, a full appreciation requires seeing not just the previous film, but any film even tangentially related to it.
Of course, this does not answer the question of whether Guardians of the Galaxy Vol. 2 is any good, and like nearly every Marvel movie released in the last several years, it is. Even the lowest quality Marvel offering, whether Avengers: Age of Ultron or Iron Man 2, has its pleasures, even if they must be seen in retrospect. And if this sequel to the film that made Chris Pratt a movie star suffers in comparison to the original, it is because the film's offbeat, jokey sensibility is no longer as fresh and startling as it was upon the release of the first film in the series.
Pratt once again stars as Peter Quill, the leader of a ragtag band of space travelers that include Gamora (Zoe Saldana, the go-to actress for donning unnatural makeup as the female lead in a sci-fi epic), the talking raccoon Rocket (Bradley Cooper), the baby tree Groot (Vin Diesel) and the alien Drax (Dave Bautista). The plot for the sequel involves Quill discovering his father Ego (Kurt Russell), who abandoned Quill's human mother on Earth, and learning that Ego is essentially an alien god. Humans discovering long-lost parents in space tends not to end well, so it should come to no surprise that the reunion of Quill and Ego leads to disastrous consequences for the film's heroes.
The primary appeal of Guardians of the Galaxy Vol. 2 is its loose, laid-back nature and the interplay between the guardians themselves. All of them are sarcastic trash-talkers, so in some sense this is what a Star Wars movie would be with no Luke Skywalker but a few different Han Solos. Cooper comes off best here as Rocket. Despite his leading man status, Cooper excels best when playing characters who are essentially jerks, and most of the funny moments either belong to the raccoon or to those who insult him, 'Trash Panda' being one of the choicest insults. Diesel also fares well in the film, if only because unlike The Fate of the Furious, in this movie, imitating a block of wood is actually the point of the character.
Because Marvel is so dedicated to quality control of its products (and these movies are first and foremost, products), Guardians of the Galaxy Vol. 2 hits all of its marks and knows exactly what audiences want from it, right down to the inclusion of the mix-tapes that were so memorable from the first film. Marvel knows to to satisfy audiences and more importantly how to use its films as advertisements for whatever blockbuster it has to offer in a few months' time.
———————————————————-
Guardians of the Galaxy Vol. 2
Walt Disney Studios
In theaters May 5
3 Stars
Films are rated on a scale of 5 stars (must-see), 4 stars (exceptional), 3 stars (solid), 2 stars (average) and 1 star (unworthy).
Video Slider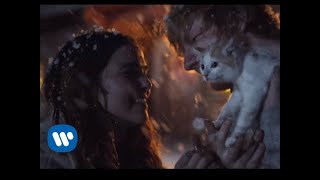 Win Tickets to See Ed Sheeran at the Rose Bowl
Ed Sheeran is back in Los Angeles, and your chance to see him perform is at the Rose Bowl in Pasadena on Saturday, Aug. 18. We are giving away complimentary tickets to the show. For a chance to enter to win, email us at info@lol-la.com with "Ed Sheeran" in the subject line and tell us why you would like to go.