Review: "In the Heights" Musical Finds a Home
Nyallah Noah as Abuela Claudia and Jose Velazquez as Usnavi in the musical "In the Heights." (Bob Young)
The Ramon C. Cortines School of Visual and Performing Arts in downtown Los Angeles made its debut presentation of "In the Heights," a musical with music and lyrics by Lin-Manuel Miranda and book by Quiara Alegria Hudes.
The show runs through May 11.
"In the Heights" is the winner of the 2008 Tony Awards for Best Musical, Best Score, Best Choreography and Best Orchestrations. It was also nominated for the 2009 Pulitzer Prize for Drama.
This spectacle was the story of a vibrant community in New York's Washington Heights neighborhood where the community is confronted with change, full of hopes, dreams and pressures, where the biggest struggles can be deciding which traditions you take with you, and which ones you leave behind.
This was the first major project for the school's new principal, Kim Bruno. Principal Bruno comes from a background of being with a 12-year stewardship of the famous Fiorello H. LaGuardia High School of Music & Art and Performing Arts (the renowned "Fame School") in New York City.
Upon walking onto this $232 million dollar campus and into the 927-seat performance and concert hall, which features a Broadway sized proscenium stage and orchestra pit and state-of-the-art sound and lighting booths, it was stunning to see the original stage set used in the national tour, designed by Ana Louizos. It was nominated for the Tony Award for Best Scenic Design and last seen at the Pantages Theatre, as well as the original 13-piece Broadway orchestration.
Bruno, furthermore, enlisted five members from the Broadway and national tour companies of "In The Heights" to add their experience and expertise to this production and to provide special mentoring to students.
Original choreography by Andy Blankenbuehler was adapted by choreographer, April Ortiz, from the first National Tour, along with Alejandra Reyes and Jose-Luis Lopez, both from the Broadway production. Also assisting were Lexi Lawson and Anna Nogueira from the first National Tour.
Also teaming up with Bruno were Grammy nominee Stormy Sacks the musical director for the production and William Goldyn the award winning faculty director.
Sacks has written orchestrations for more than fifty symphony orchestras, original music for network television shows and was musical director for dozens of musicals at the Hollywood High School before coming to Cortines. Goldyn has previously won the CETA award for his direction of the Crucible and bringing that production to Edinburgh, Scotland.
"In the Heights" is a musical that means, "Home, family, and finding where you belong," like Principal Bruno says and the awe-inspiring cast all very vividly depict.
The show itself was fabulous. A song that made the audience shed a couple tears was a song that was sung by Desiree Sennett (Nina Rosario) in "Breathe." She has an amazing voice and seamlessly and effortlessly played her character.
As a person that has seen the original cast and musical of "In the Heights," I must highlight that Jose Velazquez did a stupendous performance of Usnavi. He definitely portrayed the character in this musical just as great as Lin-Manuel Miranda.
In the scene of "Carnaval del Barrio," the musical number had the audience clapping and not able to contain themselves in their seats with a dancing bug in their pants. It was a very upbeat and rhythm filled song with many humorous moments that reminds you of a party with the familia.
All of the actors in this musical did a very exceptional job at portraying their characters and really made you forget that they are still students. The experience was just as great as being at the Pantages Theatre.
They were such a diverse group of students that really created and transmitted the close knit neighborhood that "In the Heights" is.
Video Slider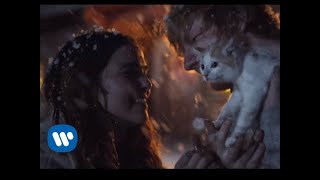 Win Tickets to See Ed Sheeran at the Rose Bowl
Ed Sheeran is back in Los Angeles, and your chance to see him perform is at the Rose Bowl in Pasadena on Saturday, Aug. 18. We are giving away complimentary tickets to the show. For a chance to enter to win, email us at info@lol-la.com with "Ed Sheeran" in the subject line and tell us why you would like to go.