Review: Jake Gyllenhaal Delivers Memorable Performance in Stronger
Jake Gyllenhaal as Jeff Bauman in Stronger
(Lionsgate)
Stronger may be an inspirational story about a man recovering from injuries after a terrorist attack, and it undoubtedly hits many of the notes that people would expect from the story, but what the film is most is a Boston movie. Movies set in the Massachusetts capital are virtually a genre unto themselves, whether the film is a Scorsese crime drama like The Departed or a sports biopic like The Fighter, and the appeal for actors and filmmakers is obvious. It lets respectable Hollywood stars drop their Rs, pound drinks and go as big as possible with their performances and, quite often, their hair. Before The Fighter, after all, Amy Adams and Melissa Leo were Hollywood's premier good girl and a low-key character actress, respectively, until David O. Russell brought their hair high and their accents even higher.
Jake Gyllenhaal is the latest star to go full Southie in Stronger, the true story of Jeff Bauman, who was injured during the 2013 bombing during the Boston Marathon and yet was able to give investigators information critical to finding and apprehending the bombers. The film chronicles Bauman's recovery from both the physical and psychological injuries with the help of his mother (Miranda Richardson, far from the prim and proper English roles for which she is best known) and sometime girlfriend Erin Hurley (Emmy-winning "Orphan Black" star Tatiana Maslany). It is easy to see the appeal for an actor, particularly one of Gyllenhaal's talent. As Bauman, Gyllenhaal gets to both play disabled and give a boisterous Bah-stahn style performance.
Ever since Nightcrawler three years ago, Gyllenhaal has returned to the ranks of Hollywood's finest young actors with a series of performances in risky, if not entirely successful films. Southpaw and Nocturnal Animals were both intelligent choices of daring material, even if these never were as successful as Nightcrawler, which seemed to reinvent Gyllenhaal. Stronger plants itself on more conventional, crowd-pleasing material than Gyllenhaal's more recent films, but even if it doesn't go for art-house outrageousness, it affords him the possibility of giving one of his very best performances, perhaps ranking only behind his career-redefining work in Nightcrawler. The part is certainly a rich one, both physically demanding and very boisterous.
One of the surprising things about Stronger is that, for an inspirational tale about overcoming adversity, the film goes funnier and trashier than its premise suggests. This is a film that revels in its lower-class Boston milieu and all of its accoutrements. The director, David Gordon Green, began his career as an art-house darling before moving into low-brow Seth Rogen comedies, which oddly makes him right for a film such as this. Green can do the real emotion while still undercutting the self-serious nature with laughs.
All of this might make it seem as if Stronger is a lesser film than it actually is, a mixture of inspirational schmaltz and low-comedy, but that undervalues and misrepresents what the film actually accomplishes. The tone is very reminiscent of David O. Russell, but like the American Hustle and Silver Linings Playbook director's more successful works, Green is able to introduce tougher ideas in the midst of actors playing to the rafters. In particular, the film is sensitive to the demands that Bauman makes on everyone else and makes the difficult realization that suffering rarely ennobles people. Jeff Bauman was a screw-up and kind of a jerk before the accident, and losing his legs didn't magically imbue him with the maturity he once lacked. He just has a tougher time reaching for beer than before. And the film is at its strongest when it points to the emotional demands that people make on accidental heroes such as Jeff. Even the most sincere and well-meaning thank you is a reminder of the tragedy that prevents him from moving past it.
Stronger is a more interesting and insightful film than its triumph-over-adversity storyline would suggest, and not simply because Jake Gyllenhaal does some of his best work. This is a film with courage, insight that relishes its Boston roots. It's wicked good.
———————————————————-
Stronger
Lionsgate, Roadside Attractions
Now in theaters
4 Stars
Films are rated on a scale of 5 stars (must-see), 4 stars (exceptional), 3 stars (solid), 2 stars (average) and 1 star (unworthy).
Video Slider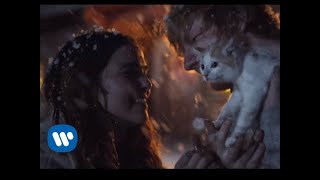 Win Tickets to See Ed Sheeran at the Rose Bowl
Ed Sheeran is back in Los Angeles, and your chance to see him perform is at the Rose Bowl in Pasadena on Saturday, Aug. 18. We are giving away complimentary tickets to the show. For a chance to enter to win, email us at info@lol-la.com with "Ed Sheeran" in the subject line and tell us why you would like to go.