Review: Jake Gyllenhaal is Brilliant in Southpaw, But Film Lacks Punch
Jake Gyllenhaal stars as Billy Hope in Southpaw. (Scott Garfield/The Weinstein Company)
When I saw the first trailer for Antoine Fuqua's somber Southpaw, I assumed it was another boxing movie based on an inspirational true story a la The Fighter or Cinderella Man. After seeing the film, however, I came to realize that not only is the drama not based on a real person, but it does not in fact even take place in our reality. Indeed, Southpaw is a hodgepodge of hilariously over-the-top hokum and aggrandized gravitas so utterly unbelievable that one might mistake it for a children's cartoon were it not for the unrelenting grimness of its dour tone.
Paw follows Billy Hope (Jake Gyllenhaal) a mumbly, blue-collar tough in the Jake LaMotta mold who fought his way from a Hell's Kitchen orphanage to Madison Square Garden, where we find him reigning high as the light heavyweight champion of the world. In Billy's corner is his beautiful, saintly wife Maureen (Rachel McAdams), as well as slick promoter Jordan (50 Cent) and a cadre of "Entourage"-esque goon-cum-friends from the old neighborhood. Though Billy has made a career out of his indomitable stamina, cracks are beginning to show in his strategy of wearing opponents out by taking their hardest punches while remaining upright (gee, never seen that in a boxing movie before!).
Concerned that their cute moppet of a daughter Leila (Oona Laurence) will have to grow up with a punch-drunk dad, Maureen begs Billy to take a break from fighting and focus on family. Predictably, just as the pugilist starts to go down a brighter road in his life, it all comes crashing down around him in spectacularly melodramatic fashion. After a charity event, Billy's boxing rival, Miguel Escobar (Miguel Gomez), and his lackey, Ramone (Victor Ortiz), start insulting and threatening the champ and his family. Unable to control his temper, Billy goes after the men, leading to a vicious brawl which ultimately ends in tragedy when Ramone's gun discharges accidentally, striking and killing poor Maureen.
Following this calamity, Billy's life spirals further and further out of control. Stretched thin from overspending, the once-successful fighter loses all of his money and property. His longtime handler Jordan leaves him, adding insult to injury by choosing to ally with none other than the villainous Escobar himself. Next, he becomes addicted to drink and drugs, causing him to attempt suicide by crashing a car into a tree. After this episode, his beloved Leila is taken away by the state and moved into a children's home until her father can get his life together. If all this pathos was earned naturalistically, it would be quite affecting indeed, but unfortunately, each new trauma is cynically tossed forward by writer Kurt Sutter in a transparent attempt to set up the film's inevitable redemption arc.
It's in that crucial second-act period where Southpaw goes from simply cliche to overtly pandering and silly. Billy returns to his old neighborhood and links up with gruff, alcoholic Tick (Forest Whitaker), a former pro-trainer who now runs an inner-city youth gym (Again, I felt as though I had seen this plot point a million-odd times.). Though initially resistant, Tick comes to accept Billy as one of his own and whips him back into disciplined fighting shape. Through some old connections, Tick sets up a charity boxing match in a church, allowing Billy a chance to regain his confidence by clobbering an opponent. After watching the fight, Jordan decides to take Billy back on as a client, setting up a huge title fight with Escobar in Vegas.
Wait, what!? Southpaw skips over a good 45 minutes of training montages and circuit bouts, taking its protagonist directly from his first, lowly fight back to the climactic bout of the century within a manner of minutes. This tone-deaf affront to pacing sums up the structure of the entire film, which bounces clumsily from straightforward sports movie, to harsh, real-world drama, to over-the-top Rocky IV cheese without grace or dignity. Every character feels like an emotional prop, every plot beat a contrived marker ticking ever-closer to the ending we all know is coming: a poorly shot, meandering boxing match which does nothing to distinguish itself from every boxing movie ever made.
If there's one bright spit in this gloomy morass, it's another brilliant performance from the resurgent Gyllenhaal, who follows up his brilliant work in last year's Nightcrawler, with a bold, believable turn as strong-willed, ineloquent lug Billy Hope. Faring less well are many of Gyllenhaal's co-stars, especially McAdams, who continues to disappoint with another phoned-in, barely-registering role, and 50 Cent, who is as leaden and empty as his recent record-sales.
Overall, it's interesting to note that Southpaw was originally written as a vehicle for and spearheaded by Marshall Mathers aka Eminem, envisioned as a parable of the second act of his professional life. Though that deal fell through, the movie still can't help but feel like a latter-day Eminem album in its style and structure, which is to say: all sound and fury, empty bluster posturing for earlier greatness but settling for tired mediocrity.
———————————————————-

Southpaw

The Weinstein Company

In theaters July 24
2 Stars
Films are rated on a scale of 5 stars (must-see), 4 stars (exceptional), 3 stars (solid), 2 stars (average) and 1 star (unworthy).
Video Slider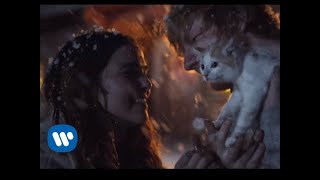 Win Tickets to See Ed Sheeran at the Rose Bowl
Ed Sheeran is back in Los Angeles, and your chance to see him perform is at the Rose Bowl in Pasadena on Saturday, Aug. 18. We are giving away complimentary tickets to the show. For a chance to enter to win, email us at info@lol-la.com with "Ed Sheeran" in the subject line and tell us why you would like to go.