Review: Jem and the Holograms Makes the Predictable Even More Mundane
Hayley Kiyoko, Aurora Perrineau, Aubrey Peeples and Stefanie Scott in Jem and the Holograms (Justina Mintz/Universal Pictures)
In an attempt to simultaneously capitalize on '80s nostalgia and the YouTube scene, Jem and the Holograms was made. Based on the hit cartoon show from decades ago, which has some lasting cult fame, the latest feature from Universal and Blumhouse is hitting the big screen to bring people of all ages to see the classic retold as the viral success story of talent found on the internet.
Oh, so current.
When social media obsessed little sister Kimber (Stefanie Scott) uploads her older sister Jerrica's (Aubrey Peeples) recording of herself singing in low light and pink hair as 'Jem' on YouTube, the internet explodes! That's every teen's dream nowadays, it seems. But Jerrica is the shy artistic type who, when fame comes a-knockin', steers away only to be persuaded by her sisters and aunt to save their home.
Jem and the Holograms is a rise-to-fame movie that skims the tropes of its genre. A band finds sudden fame that wants to capitalize on the lead singer, there's bubbly pop music, a romantic lead who sees the main girl as she truly is (outrageous, right?), a manager who wants her to go solo, the breakup of the band for money, awkwardly placed references to the show, the reunion and GIRL POWER! Seriously even someone who hasn't seen the show can tell when an homage to the cartoon happens and interrupts the flow of the already mediocre script.
It's a shame really, the talent in the film is fantastic. Sisters Aja (Hayley Kiyoko) and Shana (Aurora Perrineau) stand out, and we commend the film for diversity. We even liked the film for changing its villain to a female played by the fierce Juliette Lewis. Everyone in the film can sing, and they all have real chemistry which would have been great to see in a better-written film.
By having the film's goal be to appeal to both generations by pandering to their tastes, it also really missed the point. It speaks to young adults in a way that real young adults wouldn't be like, but adults will think that's how it is now and kids will try to emulate it as what they should be. There could have been a more earned story here. Literally after the band breakup beat, it's not five minutes that go by before Jerrica is forgiven.
If you've seen Glitter, Spice World, Crossroads or Josie and the Pussycats, you will know this story. Even some of those had interesting quirks in a bad, B-movie kind of way, but Jem and the Holograms makes the predictable even more mundane instead of rich with the heart of the show.
———————————————————-


Jem and the Holograms


Universal Pictures
Now in theaters
2 Stars
Films are rated on a scale of 5 stars (must-see), 4 stars (exceptional), 3 stars (solid), 2 stars (average) and 1 star (unworthy).
Video Slider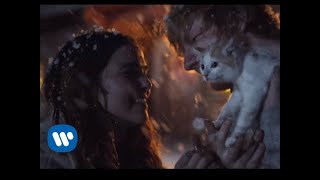 Win Tickets to See Ed Sheeran at the Rose Bowl
Ed Sheeran is back in Los Angeles, and your chance to see him perform is at the Rose Bowl in Pasadena on Saturday, Aug. 18. We are giving away complimentary tickets to the show. For a chance to enter to win, email us at info@lol-la.com with "Ed Sheeran" in the subject line and tell us why you would like to go.