Review: La Boda de Valentina is Charming, Yet a Bit Thin
Marimar Vega, left, and Ryan Carnes in La Boda de Valentina (Pantelion Films)
Hailing from Pantelion Films is La Boda de Valentina, the second fluffy rom-com from helmer Marco Polo Constandse (Cásese Quien Pueda). When taken on its own merits, the film mostly succeeds as a work of light, feel-good entertainment, though it stubbornly refuses to push many boundaries as it repurposes a well-worn genre trope with a more international flair. The story follows Valentina (Marimar Vega), a beautiful and well-to-do businesswoman living a cosmopolitan life in New York City, happily engaged to the hunky Jason (Ryan Carnes), whose family owns her firm. Jason proposes marriage in suitably charming fashion and things seem to be off to a rip-roaringly romantic start.
Of course, things soon go sidewise, as they are wont to do in these neo-screwball romps, when Valentina brings Jason back to Mexico in order to meet her corrupt, Kennedy-esque family of strivers and sleaze-bags. The patriarch of the clan (Christian Tappan) is being forced to run for mayor in order to boost his own profile, his wife (Sabine Moussier), is a plastic-surgery-prone former beauty queen with expensively tawdry taste, and the brother is much reviled "poor little rich boy" who takes a regular bruising on social media. Amidst a host of fish out of water antics upon the arrival of her new beau, Valentina is soon shocked to learn that, as part a tax-evasion scheme, the family has married her off on paper to a man that is most definitely not her husband.
Said fellow is none other than Angel (Omar Chaparro), Valentina's down-to-earth ex-boyfriend— a model citizen who works for charity programs helping poor children. As one might expect, this situation proves untenable to all involved, as Valentina buts heads with Angel over the forced nature of their would-be nuptuals. However, over time, the ex-lovers learn to (surprise) see the best in one another as they fondly remember old times together. Of course, it's not long before Jason challenges Angel's manhood, leading to a goofy battle of wills over tequila shots and lucha-libre wrestling matches. Despite the simmering tension between them, even Jason finds himself ultimately unable to resist Angel's plentiful charms.
La Boda de Valentina may not aim for the stars, but it more than hits its middle-brow mark with a delightful blend of slapstick laughs and truly endearing romance. In addition, it manages to get laughs out of its audience without ever resorting to overly crude, "blue" humor— no easy feat for any so-called "adult" comedy circa 2018. Omar Chaparro is fast becoming a superstar in the Latin entertainment market, and it's not hard to see why with his commanding and engaging performance here. Similarly, the lovely Marimar Vega lights up her every moment onscreen with her easy grace and assured confidence. If there's one weak spot, it might be Ryan Carnes' somewhat dull turn as Jason. Though he certainly looks the part, Carnes can't help but feel overshadowed by his more lively co-stars. Still, if one is seeking a mild and pleasant diversion that strays from the American norm, look no further then the zesty treacle that is La Boda de Valentina.
—————————————————————–
La Boda de Valentina
Pantelion Films
Now in theaters
3 Stars
Films are rated on a scale of 5 stars (must-see), 4 stars (exceptional), 3 stars (solid), 2 stars (average) and 1 star (unworthy).
Video Slider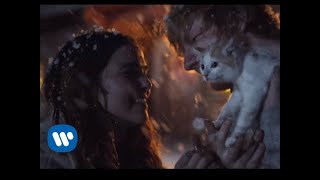 Win Tickets to See Ed Sheeran at the Rose Bowl
Ed Sheeran is back in Los Angeles, and your chance to see him perform is at the Rose Bowl in Pasadena on Saturday, Aug. 18. We are giving away complimentary tickets to the show. For a chance to enter to win, email us at info@lol-la.com with "Ed Sheeran" in the subject line and tell us why you would like to go.