Review: LA's First-Ever Broccoli City Festival Promotes Healthier Lifestyle, Features Lots of Yoga and Hip Hop
Chuck Inglish of The Cool Kids performing on Saturday, May 3 at the Broccoli City Festival at LA Mart in downtown Los Angeles. (Michael Carranza/Living Out Loud LA)
The first ever Broccoli City Festival on the West Coast took place last Saturday, May 3rd at the LA Mart in downtown Los Angeles. Notable headliners included JoJo, DJ Vashtie, and Chuck Inglish of the heavily respected Cool Kids.
The Broccoli City Festival first started in Washington D.C. where it has been running since 2009 with a mission to promote healthier, more environmentally sustainable lifestyles while inspiring the millennial generation to empower themselves and make informed decisions about their health and environment.
It was a hot 92-degree day in downtown Los Angeles, yet the beats were continuously thumping from the outdoor stage which hosted multiple DJs and performers throughout the day. The crowd was scattered across the large parking lot, visiting vendor booths, food trucks, and a body wellness center, but everyone united in cheers whenever classic hip hop instrumentals played over the speakers.
The vibe was that of a hip hop record store; there was even a booth where people could create their own vinyl artwork, which was hugely popular drawing a long line of attendees. People were seen across the festival proudly carrying their unique records, and even using them as a nice way to block the sun.
A sustainable and healthy lifestyle was encouraged at the body wellness center where yoga and fitness instruction was offered to participants. Even with hot, humid weather making it difficult to withstand, many people participated in yoga sessions where fusions of beats and poses added to the Broccoli City Festival's uniqueness.
Yoga and hip hop defined another huge theme of the festival where diversity and unification of different art forms and creativity could empower generations and create positive change. The Master of Ceremonies, NatePoetics, instructed festival goers to "go get your twerk on." This millennial festival offered juxtapositions of twerking and yoga, while Nas' "NY State of Mind" played in the background, somehow making perfect sense and adding to a more enjoyable festival overall.
No festival can be successful without good food, and the Broccoli City Festival was no exception. A variety of food trucks were positioned opposite of the stage, offering a variety of fusion Mexican, Salvadorian, American, and Argentinian food. Cambalache Argentina Food, The Lime Truck, Meat in the Middle, and The Hungry Nomad were among the favorites for festival goers looking for good food and refreshing drinks.
As the day wound down, the crowd grew slightly restless as the second half of the scheduled lineup was delayed. Extra performers not on the original lineup stepped up to the plate, DJ's continued spinning, and the show went on. At one point, a rendition of R. Kelly's "Bump in Grind" was heard and ended well received by the crowd.
The most poignant moment of the festival came when NatePoetics stepped on the stage and recited spoken word urging millennials to change the world and unite through creative endeavors. "The revolution will not be televised" he emphasized to a crowd that was all ears for the talented poet.
There was also a moment of silence for the two hundred Nigerian girls who were kidnapped by Islamist rebels in early April. The sun set on #BCfest and the people were now ready to finally witness the closing acts.
DJ Vashtie came out with JoJo, the headliner of the evening. She performed her hits "Too Little Too Late" and "Baby! It's You," closing out the first ever Broccoli City Festival on a good note.
With potential to grow and continue their positive movement urging people to reduce their carbon footprint, Broccoli City Festival will surely build on their lineup and return to Los Angeles year-after-year.
Video Slider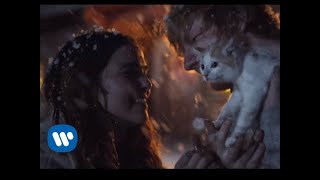 Win Tickets to See Ed Sheeran at the Rose Bowl
Ed Sheeran is back in Los Angeles, and your chance to see him perform is at the Rose Bowl in Pasadena on Saturday, Aug. 18. We are giving away complimentary tickets to the show. For a chance to enter to win, email us at info@lol-la.com with "Ed Sheeran" in the subject line and tell us why you would like to go.