Review: How to Be a Latin Lover Balances Unabashed Sentiment with Broad Comedy
Salma Hayek and Eugenio Derbez in How to Be a Latin Lover (Claudette Barius/Pantelion Films)
One can rarely say this about a movie about a main character who is essentially a gigolo, but How to Be a Latin Lover is really a film about family values. This might not be the first movie to candy-coat this type of material (Pretty Woman made street work into a beloved romantic comedy nearly 30 years ago.), but it is still remarkable to see filmmakers take a movie about conspicuously adult themes and approach it with such sweetness.
How to Be a Latin Lover stars Mexican superstar Eugenio Derbez as Maximo, who as a child decides to become a trophy spouse in order to avoid a life of hard work like his late father. As a young man, he marries a wealthy supermarket heiress and lives a life of luxury until, after 25 years with his now-ailing wife, the gone-to-seed Maximo is ditched for a younger man. In perhaps the most perverse twist that wouldn't be out of place in a David Lynch movie, the wife leaves him for a car salesman played by Michael Cera, perhaps the only actor who can look simultaneously prepubescent and ancient, with no features in between. Cast out of the wealthy society to which he was accustomed, Maximo must stay with his sister, a single mother played by Salma Hayek, while hatching a plan to snag another elderly, wealthy wife.
From there, How to Be a Latin Lover balances unabashed sentiment with broad comedy. Hayek's character, a widow, has an adorable yet dorky 10-year-old son with a crush on a pretty classmate, so it's inevitable that Maximo will learn to be a substitute parent to the nephew he has never met and provide the father that the child needs. This is not the type of movie for those who are allergic to precocious little kids behaving like adults in cutesy ways. And yet, mixed with the film's Hallmark Channel-style sentimentality, this is a slightly dirty sex comedy, albeit one that's practically G-rated compared to similar offerings.
Much of this comedy involves Rob Lowe as Maximo's best friend, himself an aging boy toy who has kept himself in better shape for his elderly rich wife. One of the glaring flaws of the plot is that Maximo would have never let himself become such a schlub; any trophy spouse who has ever set foot in Mar-a-Lago knows that your one job is to hold onto your looks as long as possible, just like the ageless Rob Lowe has done. Lowe is so perfectly cast and used here that it is impossible to imagine anyone else in the role.
How to Be a Latin Lover is at its best when it eschews its sentimental side for just throwing out jokey set-pieces, often the stranger the better. Hayek and Derbez are loose and funny together and get the banter of siblings correct, especially in a scene where they get drunk together. And Kristen Bell has a nice turn as the manager of a frozen yogurt shop where Maximo is forced to work. Bell's perky cuteness seems tailor-made for romantic comedies, but she is often better with a streak of eccentricity. She might be capable of a Kate Hudson part, but she really shines when she takes the Judy Greer ones.
How to Be a Latin Lover is a perfectly fine debut for Eugenio Derbez after a long career in Mexico, aided by a strong cast of comic talent. It may be the most sympathetic look at a gold-digger ever, at least until Melania Trump gets her eventual biopic.
———————————————————-
How to Be a Latin Lover
Pantelion Films
Now in theaters
3 Stars
Films are rated on a scale of 5 stars (must-see), 4 stars (exceptional), 3 stars (solid), 2 stars (average) and 1 star (unworthy).
Video Slider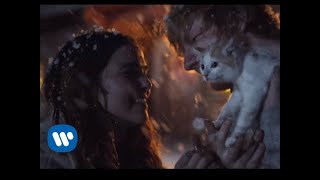 Win Tickets to See Ed Sheeran at the Rose Bowl
Ed Sheeran is back in Los Angeles, and your chance to see him perform is at the Rose Bowl in Pasadena on Saturday, Aug. 18. We are giving away complimentary tickets to the show. For a chance to enter to win, email us at info@lol-la.com with "Ed Sheeran" in the subject line and tell us why you would like to go.